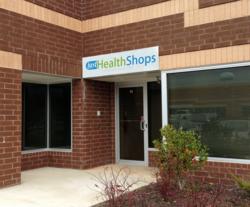 We're very excited about the new location.
Fulton, MD (PRWEB) January 15, 2013
After three years of operation, JustNebulizers.com has moved to a new corporate headquarters. The new facility is three times the size of the old one, meaning there's more room for employees and, perhaps best of all, much more room for nebulizers.
According to CEO Bryan Mercer, who spent his weekend helping move boxes of nebulizers from the old warehouse to the new one, "We're very excited about the new location. It's not too far from the old one and there are lots of restaurants and a grocery store nearby, so it's very convenient for our employees."
The new facility also includes a conference room complete with smart TV that can be used for meeting with offsite employees or other businesses. The new call center is designed to be quieter, allowing for a more peaceful environment as the customer service team answers nebulizer questions from across the country.
And the warehouse is much bigger. "We already ship most of the nebulizers ourselves," said Mercer. "But there were still a few we drop shipped. Now we should be able to bring all nebulizer shipping in house and save money."
After a week in the new location, things are running smoothly and the employees are happy. "I think the only disadvantage is now my commute's slightly longer," said Mercer. "I can live with that." JustNebulizers.com's new headquarters is at:
1840 West Market Place, Suite H
Fulton, MD 20759
As before, this is just a corporate headquarters and not open to the public or solicitors. All JustNebulizers.com sales are made online and shipped to customers' homes.
About JustNebulizers.com
JustNebulizers.com provides respiratory products throughout the United States for people of all ages seeking the very best breathing treatments. JustNebulizers.com understands the importance of choosing the right nebulizer equipment. That is why they provide the largest selection of the best nebulizer systems, parts, accessories, and respiratory care products as well as comprehensive and informative details about all of their products. With a wide assortment of respiratory products at the very best prices, their products fit the needs of both young and old persons who need some breathing assistance.