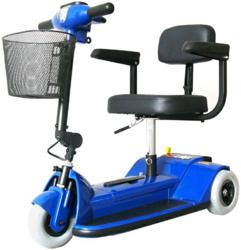 For those who find a walker or rollator isn't enough, a power scooter is the perfect aid for staying independent and active
Fulton, MD (PRWEB) April 10, 2013
At one time, a loss of mobility meant a loss of independence. But with today's medical technology it doesn't have to. From canes to walkers to power scooters, mobility aids provide their users a great way to stay both independent and active.
"When we first started Just Walkers, our focus was on rolling walkers or rollators and traditional walkers," said Bryan Mercer, a licensed pharmacist for over 30 years. "But as the site grew more popular we started adding other mobility aids—crutches, wheelchairs, canes and now power scooters."
The first power scooter was built in 1954 and advertised as an "electric wheel chair." The product was a complete commercial failure. But then in 1968, one of inventor Allan R. Thieme's family members was diagnosed with multiple sclerosis. Wanting to help out, Thieme designed and built a mobility scooter named the Amigo. When released to the public, the Amigo was a huge success and launched the entire power scooter industry.
"For those who find a walker or rollator isn't enough, a power scooter is the perfect aid for staying independent and active," said Mercer. Power scooters decrease the risk of falls, leading to fewer injuries and hospital stays. And if one is injured but can't stand to be stuck in the house all day, scooters provide a way to get out without risking one's physical health. Another popular use is for shopping. Many users may be able to walk around fine without a scooter, but that doesn't mean they're ready to stand in long lines or carry bags of groceries.
"Our goal is to provide visitors with comfortable and safe scooters they can afford," said Mercer. "Currently, we're selling the popular Zipr Scooters and the Phoenix Travel Scooters from Drive. But expect our selection to keep expanding."
About JustWalkers.com
Just Walkers provides premium walking aids throughout the United States for people of all ages looking for the best mobility products at the lowest price. They understand the importance of choosing the perfect mobility device to fit your needs. With this in mind, they offer only the best products, parts, and accessories including detailed information about each product and numerous user reviews to help you with your decision. They are proud to serve those who seek information and assistance in determining which walking aid works best for them. With a wide assortment of walking aids at affordable prices, JustWalkers.com is determined to make your shopping experience worthwhile.