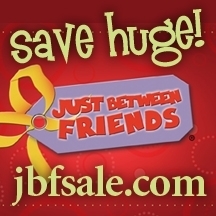 Colorado Springs, CO (Vocus) August 15, 2009
With the jobless rate at an all time high and the recession affecting families across the country, many are searching for ways to save. Just Between Friends (JBF) is helping thousands of families throughout the Colorado Springs region make ends meet. With one local event, families are able to earn some cash quickly while also saving money on everything they need for their families.
Just Between Friends is the largest children's and maternity consignment event in Colorado Springs and is getting ready for its biggest fall event ever, with huge discounts for shoppers. JBF also gives families the chance to earn money, by selling the items their children have outgrown.
Just Between Friends is accepting consignors through August 17th and the event opens to the public on August 21st.
JBF-Colorado Springs
August 21st & 22nd
Phil Long Expo Center
Families will find great deals on everything they need for their family: clothing, Halloween costumes, school uniforms, baby equipment, furniture, DVDs, toys and much more. To ensure safety, JBF of Colorado Springs will provide information on recalls and will have lead testing kits available to check items for consignors and shoppers.
Once again, Just Between Friends is helping the Air Force Academy Airman's Attic which helps active duty military families with food, clothing, household items and furniture.
Owners Lynn Jennings and Melissa Meifert are both moms who know firsthand how expensive it can be to raise a family which is why they brought Just Between Friends to Colorado Springs. They are both available for interviews and we can also provide families who are involved with the event. Please call Diane White at 918-794-3555 for more information or to arrange an interview.
About Just Between Friends
Just Between Friends, http://jbfsale.com, was founded in 1997 in a living room in Tulsa, Oklahoma when founders Shannon Wilburn and Daven Tackett invited 20 of their friends to be consignors at their sale. The idea caught on and grew each season in Tulsa. In 2003, they formed Just Between Friends Franchise Systems, Inc. and began selling franchises. As of July 1, 2009, they have 95 franchises in 20 states with 10 more under development. They have received national attention on several shows including ABC News, Good Morning America, Inside Edition and CNBC's The Big Idea and recently taped a segment for CNN News.
Contact:
Diane White
918-794-3555 or 918-906-6664
DianeWhite (at) jbfsale (dot) com
###