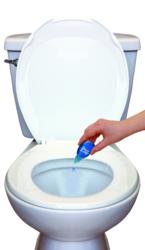 Just a Drop takes the embarrassment out of going to the bathroom by eliminating personal odor and leaving a fresh scent behind.
White Plains, NY (PRWEB) July 09, 2012
Just a Drop, an innovative bathroom odor product that actually eliminates embarrassing personal odor rather than just masking it, is experiencing record sales. On July 2, 2012, a popular talk show host, on his national television show, demonstrated the science behind how Just A Drop works. In addition, celebrities and health experts across the country are singing its praises.
It's tough to impress Howard Stern, but on his radio show, he was truly amazed by the complete lack of odor thanks to Just a Drop in the bowl. The Doctors, the syndicated medical TV show, are so convinced of the effectiveness of Just A Drop that they gave everyone in their studio audience a free sample.
Literally, "just a drop" in the toilet bowl before you go creates a seal across the water that traps bathroom odor, so they don't enter the air and are flushed away for good. Packaged in a convenient purse or pocket size bottle, Just a Drop is perfect for use at home, work, school, or restaurants – anywhere you need to go. No more sheepish looks as you hold the door for the next person in line; no more "holding it in" until you have more privacy. No more sprays that mask the odor, Just a Drop puts an end to the embarrassment of personal bathroom odor.
"We all do it, but no one wants to be 'caught in the act'", says Randy Hecht, President of Just a Drop USA. "Eco-friendly Just a Drop takes the embarrassment out of going to the bathroom by eliminating personal odor and leaving a fresh scent behind."
Over a million bottles were sold in 2011. Recent buyers include a Grammy winner, an Emmy winner and the head of a major Hollywood Studio. Theirs doesn't stink. Yours doesn't have to either. Available only online at http://www.justadrop.net