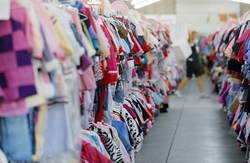 The Great Recession of the past couple of years has motivated more families than ever to find ways to stretch their household budgets.
Fort Worth, TX (PRWEB) September 1, 2010
Just Between Friends Fort Worth, Texas' largest children's and maternity consignment sale, is reporting a record-breaking number of consignors and shoppers registering for their semi-annual sales event being held September 4-11, 2010 at the Will Rogers Memorial Center in Fort Worth. Registration is up 20% over the Spring 2010 sales event. The renowned sale is targeted to provide special deals and recession relief to Metroplex area families.
"The Great Recession of the past couple of years has motivated more families than ever to find ways to stretch their household budgets," said Joanie Morrison, Co-Owner, Just Between Friends of Fort Worth. "As a result our semi-annual sale has grown by leaps and bounds. Years ago when we started Just Between Friends Fort Worth, we mainly saw budget shoppers. These days with nearly everyone searching for savings, we see shoppers of all varieties! Not only is our parking lot filled with mini-vans and SUV's, people pull up in Mercedes and BMW's all the time. Everyone is looking to economize and a Just Between Friends consignment sale completely fits the bill," stated Morrison.
The semi-annual sale, held at the Will Rogers Memorial Center in Fort Worth September 3 – 11, 2010, features a giant collection of boutique and name brand children's and maternity Fall and Winter clothing, costumes, toys, and baby equipment. A portion of the sale proceeds as well as the unsold items are donated to local charitable organizations. These charities are Community Enrichment Center's Open Arms Program, Teen Lifeline, and Fort Worth Metro.
With humble beginnings in Morrison's living room, Just Between Friends of Fort Worth has grown to a massive sale that requires over 75,000 square feet of space. Now in their fifteenth season, boutique and brand name maternity, baby and children's merchandise, including toys and equipment will be quick to go. The upcoming sale accepts consignors who wish to sell their own items up until the day before the sale.
WHEN: Saturday, September 4th - 2.00pm – 8.00pm – Prime Time Shopping Day
Sunday, September 5th – 1.00pm – 8.00pm
Monday, September 6th – 10.00am – 7.00pm
Friday, September 10th – 10.00am – 7.00pm
Saturday, September 11th – 8.00am – 8.00pm – 50% off day sale
WHERE: Will Rogers Memorial Center - Exhibit Hall
3401 West Lancaster, Fort Worth, TX; 817.392.7469
CONTACTS: Pam Willingham & Joanie Morrison, Owners
ADMISSION: Two days only – Saturday, September 4th - $10.00 per person 18 and over; Sunday, September 5th - $3.00 per person 18 and over – all other days FREE. Sale is open to the public.
About Just Between Friends
Just Between Friends Franchise Systems, Inc. was started by two busy, budget conscious moms in Tulsa, OK in February of 1997. Their hope and dream was to make a little extra money and clothe their children without having to pay expensive retail prices. In just thirteen short years, the company has grown from one location in Tulsa, OK to 107 sale locations in twenty three states, making it the largest children's consignment sale organization in the country. Recently JBF was featured on ABC's "Headline News, " "Good Morning America," "Inside Edition," and CNBC on "The Big Idea with Donny Deutsch," For more information and photos go to http://www.jbfsale.com/fortworth.
About Open Arms
Open Arms is a long-term program that provides a step-by-step method for rebuilding of traumatized lives. The emphasis is on individuality. Besides safe housing, food and clothing, they provide instruction on parenting, budgeting, career development, recognition of abusive traits and anger control. In addition, Open Arms also provides information, education, referrals, crisis intervention, food, clothing, and family counseling to approximately 125 individuals per month to the community. Research indicates that 85% of those who complete the long-term care program stay out of abusive relationships permanently. These women enter into the mainstream of society as self-supporting, tax paying individuals who have a sense of mental, emotional, social and spiritual wholeness. For more information visit their web site at http://www.thecec.org.
About Teen Lifeline
Teen Lifeline, Inc. meets the needs of hurting teenagers by providing a safe place of acceptance, empowerment and support. They assist schools, churches and families in their efforts to provide encouragement and support to their teens, and give individual attention to the needs and concerns of those teens through personal involvement, interaction and a greater knowledge and understanding of relationships.
Teen Lifeline, Inc. believes that while physical and emotional support may be provided to help teenagers overcome the pain and hurt they experience, true healing comes through a relationship with Jesus Christ. Their ultimate goal is to introduce and/or strengthen the lives of the young people they work with through voluntary, individual care programs. For more information go to http://www.lifelivedbetter.org.
About Fort Worth Metro
Fort Worth Metro is a faith-based non-profit organization that has been in operation for 13 years. Their mission is to reach people in the inner-city and equip them to bring positive change in their communities. They go into high crime, low income areas in Fort Worth and work with anywhere between 1,000 and 1,500 children on a weekly basis, meeting social, physical, and spiritual needs through their program. They provide clothing, groceries, school shoes, school supplies and much more. Their biggest events are Christmas, Thanksgiving, and Summer Camp where they take 300-400 kids to Maypearl, Texas for a weekend camp. Visit their website to learn more about this great program - http://www.fortworthmetro.org.
###