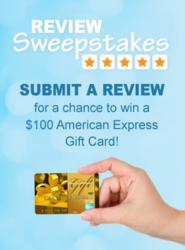 We've found that reviews are one of the biggest factors in what people choose to buy
Ashton, MD (PRWEB) August 02, 2012
Want to win $100? From now till August 31, 2012, Just Health Shops is holding a $100 American Express Gift Card Giveaway. To enter, simply review a product from one of the following sites—
JustWalkers.com
JustNebulizers.com
JustHomeMedical.com
ProtectiveBedding.com
VinylBedding.com
WaterproofBedding.com
JustWoundCare.com
JustKidsMedical.com
JustBedwettingAlarms.com
JustOximeters.com
JustFluSupplies.com
JustScooters.com
JustBathroomSafety.com
JustSupportHose.com
The rules are simple. Anyone can enter. Entrants must provide an email address so they can be contacted if they win. They don't have to have bought the product from one of Just Health Shops' websites, but they do have to know it well enough to leave a helpful review. And no one will not be penalized for leaving a negative review.
"Our goal is to get a lot of good, honest reviews about the products we offer," says Renee Mercer, a nurse practitioner and co-founder of Just Health Shops. "We've found that reviews are one of the biggest factors in what people choose to buy. The more quality reviews we get, the easier it is for our customers to choose the right product. We want to give them the best experience possible so they'll keep coming back."
The more reviews one writes the better their chances of winning, but there's a maximum of 5 entries per person. "We hope people have fun writing these reviews, and we look forward to hearing what you think of our products," says Renee. "Good luck!"
About Just Health Shops
Just Health Shops provides a wide variety of quality home health care products for people of all ages. Whether it is a temporary or a permanent health condition, they are here to help people navigate through the myriad of available products. Just Health Shops' specialty stores provide in-depth information and a comprehensive product selection to ensure that you are getting just the right product for your needs. All products are tested in-house and rated by customers so visitors can receive honest and reliable recommendations. Just Health Shops' customer care team is knowledgeable and here to answer any questions.