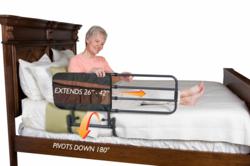 Bed rails ensure both safety and comfort while lying in bed and getting in and out of bed.
Fulton, MD (PRWEB) June 11, 2013
Nothing says home like a nice cozy bedroom. But for elderly adults who have problems with mobility and balance, the bedroom can become potentially dangerous to health and wellbeing. JustHomeMedical.com offers a wide range of home aids to keep the bedroom a safe and comfortable place.
As part of their website relaunch, the company is overhauling their selection of Safety Bed Rails. Customers can now select from nearly 50 different safety rails, including full bed rails, half rails, and bed assist handles, with affordable prices ranging from $29 to $180.
"Bed rails ensure both safety and comfort while lying in bed and getting in and out of bed," said co-founder Bryan Mercer, a licensed pharmacist for over 30 years. "I personally recommend the Stander EZ Adjustable Bed Rail. It adjusts in length, so you can use it as a support bar for getting into and out of bed, or as a side rail to prevent from falling out of bed. The Stander EZ also comes with a pouch to hold a remote control or book."
Most bed rails easily attach to standard home beds as well as electric beds. They feature easy-to-grip handles for additional support and comfort, as well as padding and adjustable length. Safety rails are excellent for repositioning in bed, and provide strong support for those with weaker limbs, as well as prevent falling accidents. Some bed rails, like the Home Bed Assist Handle from Drive Medical, are lightweight and portable, great for travel. Just Home Medical's current selection features products with single or double rails, as well as rail pads designed to protect users from entrapment and injury.
Just Home Medical plans to continue expanding their inventory in the coming months. Re-launches are in the works for a variety of other bedroom safety products, such as pressure prevention mattresses and bed wedges.
About JustHomeMedical.com
Just Home Medical provides a wide range of home medical supplies and equipment to help families maintain a healthy lifestyle. They offer both convenience and selection with thousands of products to choose from that can be delivered right to your home. Their user reviews, product videos, detailed descriptions and variety of search options make it easy to find the products best suited for you. JustHomeMedical.com is proud to serve the millions of families who seek practical solutions to everyday medical problems and want the best products at the lowest prices.