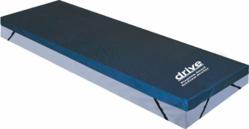 Pressure prevention pads provide an easy solution to a problem that's all too common for people with limited mobility
Fulton, MD (PRWEB) June 13, 2013
These days, there are plenty of ways to function with limited mobility. Wheelchairs, rollators, and bed rails are simple and convenient safety aids for adults who are unable to stand or walk on their own. However, such mobility solutions come with side effects, pressure sores (or bed sores) being a major one.
In revamping their website, online marketer JustHomeMedical.com offers a solution to this problem with their extensive line of pressure prevention pads and mattress overlays. Customers can now choose from almost 50 different products designed for maximum comfort, with prices ranging from $19 to $1,531.
"People who are constantly positioned in one place in a bed or wheelchair have a high risk of developing pressure sores. Pressure prevention pads provide an easy solution to a problem that's all too common for people with limited mobility," said Bryan Mercer, co-founder of the company and a licensed pharmacist for over 30 years. "The Drive Premium Guard Gel/Foam Overlay features full-length gel bladders that help improve pressure distribution while remaining breathable. The foam pad also comes with elastic straps to keep it firmly in place, even for active sleepers."
Pressure prevention pads, as well as sheepskin pads, make it easier for patients to reposition themselves regularly, allowing blood and oxygen to reach all parts of the body. All products are comfortable and durable, and can be adjusted to the specific needs of each patient. Foam overlays and pressure pump and pad systems evenly distribute pressure, preventing new ulcers, and allow air to circulate, helping to treat the old ones.
Just Home Medical plans to continue expanding their inventory in the coming months. Re-launches are in development for a variety of other bedroom safety products, such as bed wedges and waterproof mattress pads.
About JustHomeMedical.com
Just Home Medical provides a wide range of home medical supplies and equipment to help families maintain a healthy lifestyle. They offer both convenience and selection with thousands of products to choose from that can be delivered right to your home. Their user reviews, product videos, detailed descriptions and variety of search options make it easy to find the products best suited for you. JustHomeMedical.com is proud to serve the millions of families who seek practical solutions to everyday medical problems and want the best products at the lowest prices.