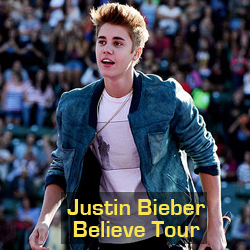 Justin Bieber Tickets for Meet and Greet, VIP and Bieber Fan Packages are available now at eCityTickets subject to availability.
(PRWEB) December 15, 2012
Justin Bieber Tickets continue to be a hot commodity as his Believe Tour winds through North America, Europe, Africa and Asia, accompanied by the girlish squeals of his young fans. With the launch of the tour, Bieber earned No. 1 on Billboard's Top-Grossing Tours and the "Bieber Fever" is hardly breaking. "As the biggest pop star in the world, it's your job to do the biggest show in the world," said tour director Jon Chu. And the teen star is off to a good start.
Crisscrossing the United States and Canada in 2012 while hitting 52 cities, the international leg of trek will begin February 17 in Dublin, Ireland, kicking off 41 performances in 17 countries. After the final May 12 concert in Johannesburg, South Africa, the Justin Bieber Believe Tour will be playing in another 30 city 2013 North American tour. This is sure to be the largest world tour of 2013.
Bieber fans will have ample opportunities to see the "As Long as You Love Me" hit-maker in concert. Justin Bieber Tickets are available now for many North American cities including Las Vegas, NV, Los Angeles, CA, Denver, Co, Dallas, TX, Chicago, IL, Indianapolis, IN, Hartford, Ct, and many others.
Even though he is only 18, "The Biebs," as he is fondly called by his teenage fans, has selflessly embraced the responsibility of his fame and popularity. As the biggest name in pop, Justin Bieber has over 15 million album sales; 30 million Twitter followers, 48 million Facebook fans and 3 million YouTube hits, and fans are not waiting to purchase tickets for the 2013 Believe Tour. After many missed his My World tour and had to wait over a year before Believe was announced, dates sold out at insane rates, even within an hour or less.
The first leg of the Believe tour was an early success with every show sold out. Fortunately for fans, eCityTickets.com specializes in secondary ticket sales, offering hard-to-find seats in popular, sold out shows. While fans count on him to continue to amaze and dazzle for a full sensory experience, Justin Bieber tickets are in limited supply the VIP and Justin Bieber Fan Packages should be locked in early.