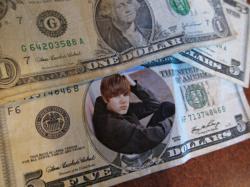 I'm not going to invest in something I don't like; I have to believe in the product.
El Segundo, CA (PRWEB) January 05, 2013
A report issued by Go Banking Rates discovers that Justin Bieber's fame hasn't diverted his smart approach when dealing with his finances. With many Americans resolving to turn around their financials going into the New Year, the findings suggest that employing Justin Bieber's sound money moves will be a beneficial strategy for those struggling with saving money. Go Banking Rates announces Justin Bieber as the 'Best Celebrity Financial Strategist' of 2012.
According to Forbes' report by Zack O'Malley Greenburg, called "Justin Bieber, Venture Capitalist: The Forbes Cover Story", published on May 16, 2012, Justin Bieber earned more than $108 million over the past two years, making him one of the world's highest-paid entertainers. Notably, he was ranked third on Forbes' annual Celeb 100 issue for the second year in a row.
Justin Bieber is named by the personal finance website, GoBankingRates.com, as one of the most financially-savvy entertainers of 2012, due to the following factors:
1. He Makes Informed Financial Decisions
In the aforesaid Forbes article, the singer shared, "I'm not going to invest in something I don't like; I have to believe in the product." In Justin Bieber's case, the investments he's referring to are "private tech startups." The article continues, "According to his manager, Bieber holds stakes in a dozen such companies."
Go Banking Rates' columnist, Stacey Bumpus, who reported on the story said, "Like Bieber, consumers who investigate and build confidence in items before parting with their money decrease their chances of making poor financial choices down the line."
2. He Knows How to Grow Money
According to Go Banking Rates, one concept of saving money involves placing it into a savings account until it's ready to be spent. But in actuality, saving money should translate into growing money.
Justin Bieber not only creates music, but also diversifies his income sources. According to the aforementioned Forbes release, his latest biopic titled, Never Say Never pulled in $30 million, and his very successful fragrance, called Someday, raked in $60 million in retail sales during its first six months on the market.
By following his lead on a smaller scale, consumers can save money in various types of accounts, like certificates of deposit and money market accounts.
"Putting these practices into action better secures the financial stability that Americans are hopeful for going into 2013," notes Jennifer Calonia, Go Banking Rates savings expert.
Click here to see the full announcement and complete list.
About Go Banking Rates
http://www.GoBankingRates.com is a national website dedicated to connecting readers with the best interest rates on financial services nationwide, as well as informative personal finance content, news and tools. Go Banking Rates collects interest rate information from more than 4,000 U.S. banks and credit unions, making it the only online rates aggregator with the ability to provide the most comprehensive and authentic local interest rate information.
Additionally, GoBankingRates.com partners with a number of major media outlets such as Business Insider and US News & World Report to provide compelling and edifying personal finance content, and its expert editors have been featured and quoted on several premier finance websites like Yahoo! Finance, Forbes, The Street, Huffington Post and more.
GoBankingRates.com belongs to a network of more than 1500 finance websites, including GoInsuranceRates.com and GoFreeCredit.com. These sites receive more than 2 million visits each month.
For questions or comments, please contact Jaime Catmull, GoBankingRates.com Director of Public Relations, at JaimeC(at)GoBankingRates(dot)com, or 310.297.9233 x261.
###