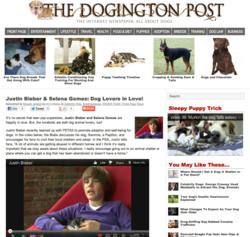 Teen stars Justin Bieber and Selena Gomez are advocates for pet adoption and are at the center of a pro-rescue effort by Dogington Post.
Boca Raton, FL (PRWEB) July 12, 2012
While teen pop sensation Justin Bieber and his actress girlfriend Selena Gomez have been making headlines over their recent world travels and Justin's high-speed car chase, the lovebirds are also in the middle of a very different type of media sensation – dog news. The teen stars and advocates for pet adoption are at the center of a pro-rescue effort by Dogington Post. The online dog news source announced an initiative that uses the stars' dedication to rescuing dogs and animal adoption to promote rescue adoptions by their readers.
This latest initiative is designed to encourage Bieber and Gomez fans that are considering adopting a purebred dog from an expensive breeder, to instead consider rescuing a homeless dog from a shelter. The teen stars received a great deal of admiration when they adopted a homeless husky mix from Canada last October. The publication decided to use this fascination with the couple and their adopted dog to show readers the benefits of dog rescue. Dogington Post is featuring news of the couple and their rescue dog on their site in hopes that fans of Bieber and Gomez can look to the couple as role models for pet adoption.
"We are very excited about our dog adoption initiative," said Harlan Kilstein, 'Top Dog' at Dogington Post. "The simple truth is there are too many great dogs being killed in shelters every year because no one is adopting them. As a venue that reaches over 1.5 million dog lovers every week, we have a responsibility to promote dog rescue to help save these animals."
The site has included features on the teen chart-topper's highly publicized adoption of their rescue puppy, Baylor; Bieber's rescue Papillon, named Sam; and Selena's five other shelter-adopted dogs, Wallace, Chip, Fina, Chaz, and Willie; and a documentary about the stray dog epidemic in Puerto Rico, hosted by Gomez. The actions of the young couple align with the publication's promotion of fair and humane treatment of dogs; inspiring the dog news site to showcase Bieber and Gomez as an example for readers of all ages in their new effort to promote the adoption of dogs from shelters.
For more information about Dogington Post and their efforts to encourage rescue dog adoption, visit http://dogingtonpost.com.