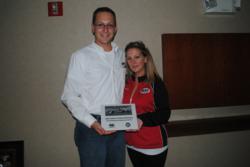 The entire staff unanimously voted Justin as our 2011 Race Against Drugs Spokesperson of the Year, Sharon Clarke, Program Manager for RAD
Nazareth, PA (PRWEB) December 13, 2011
Mazda Road to Indy hopeful Justin Onderko was honored as the "2011 Race Against Drugs Spokesperson of the Year" at an evening banquet held by the Race Against Drugs Race Team during the 24th Annual Performance Racing Industry Trade Show December 2nd for his work promoting RAD's message of "Fueling a Drug Free Future" to our nation's youth.
"The entire staff unanimously voted Justin as our 2011 Race Against Drugs Spokesperson of the Year. We presented Justin with a plaque during the RAD year-end banquet held at the 24th annual Performance Racing Industry show last Friday evening. Justin Onderko humbly accepted the award for his work as a mentor and role model for the RAD Racing Team. Justin and his team of racing professionals made this responsibility a top priority and found unique ways to infuse healthy choices, clean living, and goal setting whenever he was in the public eye. We are all very proud to be involved in his road to success and even more pleased that he chose RAD as his charity. There is no doubt in my mind that our nation's youth will follow Justin's championship lead, and model their choices by following his example." Sharon Clarke, Race Against Drugs, Program Manager.
Justin has been a RAD spokesperson for the past three years and has held and/or attended numerous Race Against Drugs events. In 2011 Justin was nominated for the Betty Jane France Humanitarian Award presented through the NASCAR Foundation by Race Against Drugs Program Director, Sharon Clarke, for his work with RAD. He was also honored in October of 2010 with inclusion in the Race Against Drugs 20th Anniversary Commemorative Poster alongside racing legends like Richard Petty, Ned Jarrett, Daryl Waltrip and Mario & Michael Andretti.
As an advocate for RAD, Justin serves as a positive role model to children across the nation. He is continually highlighted in the media, on the NCPRS website, in the NCPRS Solutions newsletter, the RAD Racing Team Pit Stop Bulletin, and on social media outlets for his active participation as a spokesperson.
Unlike many in the public eye, Justin takes his role as an advocate and role model as seriously as he does his career. Justin's passions for both racing and for drug free living are evident in all of his efforts. While being interviewed on Race Talk Radio with Dennis Michelson, Justin spoke to the racing community about what it means to serve as a volunteer and why he chose to be a part of the RAD Racing Team. Rob Montgomery featured Justin in a Racing World Magazine article about NCPRS and the RAD Racing Team and its mission to advocate a drug free, healthy lifestyle to children. Justin's image fills a full page in the magazine, and shows him in action: signing t-shirts, hats, and hero cards for his young fans.
In addition to his racing efforts, in 2011 Justin hosted or participated in five RAD Racing Team events and has spoken to thousands of youth about the dangers of drug and alcohol abuse. Justin created two Public Service Announcements for the RAD Racing Team, which are used in conjunction with NCPRS programs and posted on YouTube. He volunteered to haul his show car "Kritter" – from Pennsylvania to Orlando, at his own expense – to appear for RAD at the 2011 Performance Racing Industry Tradeshow. To top the year off, Justin's drug free message and the "burn-out" photo from his championship race will be featured in a 2012 RAD Racing Team poster sponsored by Summit Racing Equipment.
People interested in NCPRS, "Race Against Drug's" or the "Stay on Track" Program should go to http://www.ncprs.org and contact Program Manager, Sharon Clarke.
For more information on Justin Onderko and Onderko Motorsports or to have Justin and/or the RAD Show car appear at your function go to http://www.justinonderko.com
###