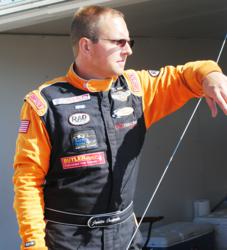 We felt that radio was a great outlet to spread the word about our team.
Nazareth, PA (PRWEB) January 31, 2013
With the 2013 racing season rapidly approaching, before hitting the racing circuit; Onderko Motorsports and its driver Justin Onderko have been hitting the radio circuit. He has been giving interviews over the last couple of weeks to promote his latest charity- Motorsports Rehabilitation Foundation.
The latest interview was given on the "SD Motorsports" program with Dave Stall. Broadcasting from San Diego, California on 1170 AM KCBQ- Dave first interviewed Justin on the 13th of January, and then requested Justin call back the following week with the founder and CEO of MRF, Scott G. Lynn.
Dave Stall is a well known personality in San Diego. He is a 30 year car industry professional- having experience in service and also as a parts director for import and domestic automobile manufacturers. Dave also teaches automotive consumer classes at San Diego City College and has been doing so for the last 13 years. In addition to hosting radio shows and teaching at the city college, he also is a fixture on the KUSI TV station. He covers everything from pet auto safety to low riders and everything in between.
Since becoming a professional driver, almost 4 years ago, Justin has utilized radio shows all over the country. "We felt that radio was a great outlet to spread the word about our team. Whether we promoting our sponsors, or one of our charities, like MRF, I really like talking to all the different program hosts," remarked Justin after one of his previous interviews.
"Logistically, it's hard to get Justin to all the places he needs to go sometimes. We can spend time with a couple shows a day, and Justin doesn't have to leave the shop and with most of the shows today being broadcast over the internet- it's a no brainier," stated Michael Onderko; after being asked why the team uses radio so heavily.
Look for Justin in the upcoming weeks to be out on the airwaves. With some big announcements from the team, Justin will once again be out talking about his race car and his sponsors. http://www.justinonderko.com will have an upcoming schedule of his radio tour.
About Onderko Motorsports –
Onderko Motorsports, LLC is a professional race team based in Nazareth, PA. It was developed in 2009 and in 2010 won the SVS Asphalt Late Model Championship. The Onderko Motorsports organization plays a major role in the Race Against Drugs program promoting a drug free and healthy lifestyle. Race Against Drugs, along with the Stay on Track program are part of the National Center for Research and Prevention Solutions initiatives to foster and help our nation's children fight against drugs by providing them positive role models to look up to. Justin Onderko was awarded the 2011 Spokesperson of the Year Award at the Performance Racing Industry Trade Show in Orlando, FL.
Onderko Motorsports provides valuable and unique marketing opportunities for its partners by branding their name with a winning race team and a positive role model for our nation's children.
For more information on Onderko Motorsports and the marketing/branding opportunities they can provide please contact them at onderko_motorsports(at)verizon.net.
About the Motorsports Rehabilitation Foundation -
MRF is dedicated to providing assistance to participants injured or deceased during a sanctioned motorsports event. Motorsports Rehabilitation Foundation assists participants and their families with the financial burdens that often occur with medical injuries or death.
The Motorsports Rehabilitation Foundation understands that in conjunction with motorsports injuries or death, insufficient resources are available to motorsports participants in such unforeseeable circumstances. Financial support from medical insurance, life insurance, legal settlements and government aid are more than often not enough to help those and the families of those who have become injured or have perished. Motorsports Rehabilitation Foundation assists these participants and their families with the financial repercussions of such injuries or loss of life.
The Motorsports Rehabilitation Foundation (MRF) is a nonprofit 501(c) (3) corporation; donations to MRF are tax deductible.
For information on how to make donations or to volunteer contact MRF at info(at)gomrf.org or visit their website at http://www.gomrf.org