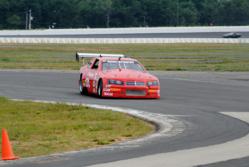 I just can't say enough about this team, they just refuse to quit. Justin Onderko, Driver of the OC2interactive/Onderko Motorsports #131
Nazareth, PA (PRWEB) July 18, 2012
The mechanical gremlins got inside the Onderko Motorsports pits this past weekend as the team entered Pocono International Raceway. A frustrated team owner Michael Onderko commented on the problems in the early going "This was totally unexpected and not a great way to start our weekend at Pocono, but we will get it fixed." The team missed practice and qualifying which meant the OC2interactive/Onderko Motorsports #131 was going to start shotgun on the field. This was a very tall order for the young driver who had no seat time at the speedway.
We caught up with Justin Onderko who at least on the outside seemed confident of the team's ability to get the car ready for the race "We have the best people working on the car right now and I am sure we will get it ready for the race." When asked about his chances of coming from 40th to get a Performance Touring win the, young driver smiled and remarked, "When they get this car fixed I will do my best to get it to the front."
The team did get the car fixed and Justin was able to capture the team's second Performance Touring win in addition to an overall 15th place finish.
After the race we managed to get a word with Justin and asked him what he thought of the day's events, "I can tell you right now I have the best people backing me. The team did a great job in getting this car fixed and without their efforts we would have gone home a lot earlier today. I just can't say enough about the team – they just refuse to quit."
Michael Onderko, team owner put a cap on the weekends events at Pocono, "While I wish I could be standing here telling you we had an outstanding weekend at Pocono, all things considered we did have a good weekend. Justin did a great job getting us our second Performance Touring win and an overall top 15. Given the adversity we had to deal with this past weekend the credit has to go to the team and to Justin for remaining focused on the task at hand. I have to say though, I am glad to be leaving Pocono. We will go back to the shop, evaluate what happened and ensure it doesn't happen again."
While the Onderko Motorsports team has been able to win in their last two outings, the wins do seem to be getting harder to get. Next on the team's schedule, it's back to Summit Point, West Virginia in mid-August. It was there where the team came within 0.062 seconds of breaking the four year old Performance Touring A track record at the National Auto Sports Association's 2012 HYPERFEST in June.
About Onderko Motorsports –
Onderko Motorsports, LLC is a professional road race team based in Nazareth, PA. It was developed in 2009 and in 2010 won its first Asphalt Late Model Championship. The Onderko Motorsports organization plays a major role in the Race Against Drugs program promoting a drug free and healthy lifestyle to our nations youth. Race Against Drugs, along with the Stay on Track program are part of the National Center for Research and Prevention Solutions initiatives to foster and help our nation's children fight against drugs by providing them positive role models to look up to. Justin Onderko was awarded the 2011 Race Against Drugs Spokesperson of the Year Award at the Performance Racing Industry Trade Show in Orlando, FL.
Onderko Motorsports provides unique opportunities for its sponsors by branding their name with a winning race team and a positive role model for our nation's children.
For more information on Onderko Motorsports and the marketing/branding opportunities they can provide please contact them at onderko_motorsports(at)verizon(dot)net