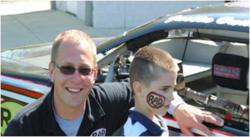 "Justin serves as a positive role model for children across the Nation", Sharon Clarke, Program Manager for RAD
Nazareth, PA (PRWEB) November 22, 2011
Justin Onderko, USF2000 hopeful and 2010 SVS Late Model Champion will bring his championship #58 Race Against Drugs Late Model Show car to Orlando, December 1 - 3 for the Performance Racing Industry Tradeshow, one of racings largest and most prestigious tradeshow events. Justin will be promoting and supporting his charity Race Against Drugs. Justin has been a national spokesperson for the RAD Racing Team for the past three years.
Justin and the Onderko Motorsports Race Team have held and attended numerous public and private events promoting the RAD message of "Fueling a Drug Free Future". "Justin is a positive role model for kids and is setting the example by living a drug and alcohol free life style" comments Sharon Clarke, RAD Program Manager. Justin was honored in October of 2010 with inclusion in the Race Against Drugs 20th Anniversary Commemorative Poster alongside racing legends like Richard Petty, Ned Jarrett, Mario and Michael Andretti. Most recently Justin was nominated by Race Against Drugs Program Manager, Sharon Clarke, for the Betty Jane France Humanitarian Award presented through the NASCAR Foundation for his work with The RAD Racing Team.
Justin and the #58 Race Against Drugs Late Model Show car will be at the Race Against Drugs booth # 515 December 1-3 while at the Performance Racing Industry Tradeshow!
The Onderko Motorsports Team recently announced their intentions to compete in the Mazda Road to Indy USF2000 Racing Series in 2012. The team has been in preparation for the transition to open wheel racing midway through their 2010 championship season. In between doing PR work for Onderko's charity Race Against Drugs, Justin spent time at the Bertil Roos High Performance Racing School in Blakeslee, PA.
Dennis Macchio, President of Bertil Roos and a 30 year racing veteran commented on Justin's performance while at the school. "Every once in awhile, a driver comes through the school that clearly stands above the others in terms of talent and ability. In my 13 years with the school this has occurred, perhaps a half a dozen times. The most recent example is Justin Onderko". Macchio continues, "Prior to his arrival at the school, Justin had oval racing experience, but was completely new to open-wheel cars, and to road courses. To the surprise of our instructors, as well as myself Justin adapted incredibly fast and quickly became one of the fastest prospects. Justin has several intangibles that make him stand out - track savvy, excellent physical skills, and little fear of speed". Macchio acknowledges, "… but the thing that sets him apart, as with all top level drivers, is his ability to process information while in the cockpit and at speed".
The USF2000 Series is sanctioned by INDYCAR as part of the Mazda Road to Indy ladder system. The USF2000 is also a support series for the IZOD Indy cars as well as the American LeMans Series.
Businesses interested in brand awareness and marketing/advertising programs with Onderko Motorsports in the Mazda Road to Indy - USF2000 Series should contact Onderko Motorsports at 610-746-3492.
For more information on Justin Onderko contact Onderko Motorsports Promotions Director at 610-746-3492 and for information on Justin's charity Race Against Drugs visit website NCPRS.org
For information on the Bertil Roos Racing School and their programs contact them at: 570-646-7227
###