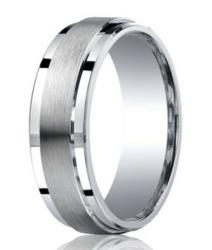 JustMensRings.com celebrates its iron anniversary with a special 6th Anniversary Sale, featuring hundreds of deeply discounted designer men's rings, wedding bands and jewelry items.
Jensen Beach, FL (PRWEB) October 10, 2012
It's not just married couples that celebrate their anniversary: in honor of its 6 years in business, leading online retailer JustMensRings.com is commemorating its iron anniversary in proper fashion with a huge Anniversary Sale. For a limited time, shoppers can save big on hundreds of styles of men's wedding bands, designer rings and jewelry for men in the special Anniversary Sale section.
Known across the country for offering some of the best everyday prices on men's wedding bands and jewelry for men, JustMensRings (JMR) has further reduced prices in the 6th Anniversary Sale section for savings of up to 75% off retail. Not only are all products in the 6th Anniversary Sale section first quality, but this special limited time sale includes some of the site's most highly sought after items, and is perfect for stocking up on men's wedding bands, anniversary rings or jewelry gifts.
It's not only "modern iron" items like stainless steel men's rings that are being discounted for JustMensRings' 6th Anniversary Sale: hundreds of designer rings and men's wedding bands in precious metals and contemporary materials like gold, palladium, cobalt chrome, tungsten carbide, titanium and ceramic have been marked down especially for the sale. JustMensRings.com carries the well-respected designer brand Benchmark exclusively, and a number of popular Benchmark styles at unbeatable prices can be found in the Anniversary Sale section.
Even though JMR's 6th Anniversary Sale has just launched, customers are already snapping up items in anticipation of the holidays as well as upcoming nuptials and anniversaries. JustMensRings.com's selection of diamond men's rings in the Anniversary Sale section has already proven to be very popular with shoppers looking for the perfect anniversary ring or wedding band. In addition to JMR's site-wide 30 day money back guarantee, all of JustMensRings' designer rings have a manufacturer backed lifetime guarantee.
While luxury options abound, prices in the 6th Anniversary Sale section start under $20. Not only are customers able to save on their purchases of men's rings and jewelry on JustMensRings.com, but in conjunction with the Anniversary Sale JMR is offering free shipping on all orders of $49 or more, or a reduced flat shipping rate of $1.95 for orders under $49.
"We are so grateful to our loyal customers for their support over these past six years," says JustMensRings.com's president and owner Roy Devine. "We consider this Anniversary Sale to be our opportunity to celebrate with them and offer a token of appreciation for their continued business."
In addition to men's wedding bands and fashion rings, shoppers can find a number of items of jewelry for men in the Anniversary Sale section like men's pendants, necklaces and bracelets. Items in the Anniversary Sale section move quickly and are not guaranteed once they are sold out; however, new styles are still being added and customers are recommended to check the Anniversary Sale frequently to see any recent additions.
About JustMen'sRings.com
At internet-only retailer JustMensRings.com, customers have come to expect the best possible prices on an extraordinary selection of men's rings, as well as the highest standards of service, selection and quality. The proof is in the numbers: JustMensRings.com now offers the largest selection of men's fashion rings online, and is the only store in the United States that offers men's large size rings up to size 20. JustMensRings leads the competition with an unparalleled assortment of unique and alternative men's wedding rings in a range of traditional and contemporary materials including gold, platinum, palladium, titanium, tungsten, silver, stainless steel, cobalt chrome and Seranite (or ceramic). Despite the recent rise in gold prices, JustMensRings continues to keep item pricing low and affordable, and shoppers would be hard-pressed to find better deals elsewhere. JustMensRings.com is dedicated to providing its customers with a simple and secure online shopping experience, and offers a 30 day guarantee and free shipping on all orders over $99.
For more information on JustMensRings, please visit www(dot)justmensrings(dot)com.