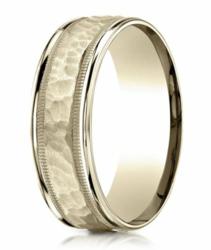 With the company expanding into new directions for 2013, JustMensRings.com has recently promoted Senior Writer Tanya Naouri to Director of Advertising and Marketing.
Jensen Beach, Fla. (PRWEB) January 16, 2013
Jewelry retailer JustMensRings continues its impressive growth in 2013 with the recent promotion of Senior Writer Tanya Naouri to Director of Advertising and Marketing. A JMR team member since March of 2012, in her new position Ms. Naouri will focus on expanding and diversifying the presence of JustMensRings.com both online and offline.
Having successfully concluded 2012 as its most profitable year in business to date, JustMensRings.com is looking to continue its expansion in the men's jewelry market in 2013. While JMR has no intention of altering its core values of everyday low pricing and superior customer service, the company will also venture into new territory in 2013. Some of the initiatives that Ms. Naouri will be spearheading include cultivating partnerships with non-profit organizations, as well as further developing JustMensRings.com's reputation as a trusted source of informational and entertaining articles on men's jewelry and jewelry materials.
Ms. Naouri's unique background has proven to be a fitting match with her varied duties as the Director of Advertising and Marketing at JustMensRings. Having formerly owned her own online womenswear and accessories boutique, Ms. Naouri more recently managed the artisan focused ecommerce site The Marin Store for several years. Ms. Naouri also has significant experience in both the public relations and nonprofit sectors, and building partnerships with charitable organizations for JMR is a particular pet project of hers.
"While we initially hired Tanya Naouri to write content for the JustMensRings website, her role at JMR quickly developed beyond that," notes JustMensRings.com's president and owner Roy Devine. "We're looking forward to her growing into her new role as Director of Advertising and Marketing as the company itself expands in new directions."
In addition to Ms. Naouri's recent promotion and plans to further diversify and grow the brand, JustMensRings.com is slated to add hundreds of new styles of men's wedding bands, designer rings and jewelry for men throughout the year. JMR will continue to serve its large customer base by offering low prices, free shipping promotions, a lifetime guarantee on designer rings and a 30 day money back guarantee on all products.
About JustMensRings.com
At internet-only retailer JustMensRings, customers have come to expect the best possible prices on an extraordinary selection of men's rings, as well as the highest standards of service, selection and quality. The proof is in the numbers: JustMensRings.com now offers the largest selection of men's fashion rings online, and is the only store in the United States that offers men's large size rings up to size 20. Just Men's Rings leads the competition with an unparalleled assortment of unique and alternative men's wedding rings in a range of traditional and contemporary materials including gold, platinum, palladium, titanium, tungsten, silver, stainless steel, cobalt chrome and Seranite (or ceramic). Despite the recent rise in gold prices, JustMensRings.com continues to keep item pricing low and affordable, and shoppers would be hard-pressed to find better deals elsewhere. JMR is dedicated to providing its customers with a simple and secure online shopping experience, and offers a 30 day guarantee and free shipping on all orders over $99.
For more information on JustMensRings.com, please visit http://www.justmensrings.com.