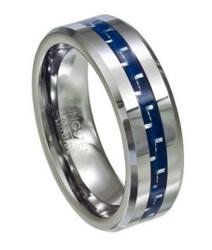 Holiday savings continue with JustMensRings.com's Annual Clearance Sale, featuring greatly reduced prices on over 500 styles of men's rings, wedding bands and jewelry for men.
Jensen Beach, FL (PRWEB) December 19, 2012
Good things come to those who wait: online retailer JustMensRings.com (JMR) has just commenced its Annual Clearance Sale. This special year end sale offers some of the most significant markdowns to date on over 500 styles of men's rings and wedding bands, as well as men's jewelry items. This yearly sale is perfectly timed for holiday anniversaries, last minute Christmas gifts and New Year's and Valentine's Day gifts.
Customers who have been patiently waiting for end-of-year savings are sure to appreciate this new sale at JustMensRings. Low everyday prices is one of the core values of JMR, but this limited time sale has further reduced prices on longstanding customer favorites as well as new arrivals, for savings of up to 75 percent off retail. JustMensRings.com is also offering free shipping during this promotion, which, paired with JMR's same day shipping, will allow customers to quickly receive in-stock items.
It's a busy time of year for engagements, so it should come as no surprise that men's wedding bands are some of the Annual Clearance Sale's most sought after items. JMR's collection of men's rings and wedding bands includes classic precious metals like platinum, gold and palladium, as well as durable and affordable contemporary alternative materials such as tungsten, titanium, stainless steel, ceramic, cobalt chrome and Argentium silver. Diamond men's rings and bands have also proved to be a hot pick, especially with customers celebrating anniversaries or buying early Valentine's Day gifts. JustMensRing.com carries the designer brand Benchmark exclusively, and a number of Benchmark styles can be found in the Annual Sale section.
While rings may be the main focus of JMR's offerings, there are a number of budget-friendly jewelry items that have been reduced for the Annual Clearance Sale as well. JustMensRings' men's jewelry offerings include men's bracelets, chain necklaces and pendants for men in modern materials like stainless steel, tungsten and ceramic. Prices for these versatile items start in the low double digits, and many customers are taking advantage of the year end sale to buy last minute Christmas gifts.
"With a new year comes new inventory," notes JustMensRings.com's president and owner Roy Devine. "We wanted to give our customers the chance to enjoy big savings on our current selection of men's rings and wedding bands while getting ready for our new spring styles."
Given the varied selection of men's rings and bands and jewelry for sale, there is truly something for every budget and taste. The Annual Clearance Sale at JMR is for a limited time only, and only while supplies last. In addition to the greatly reduced prices and free shipping offered during this promotion, JustMensRings has a 30 day money back guarantee on all items, as well as a lifetime guarantee on all designer men's rings.
About JustMensRings.com
At internet-only retailer JustMensRings, customers have come to expect the best possible prices on an extraordinary selection of men's rings, as well as the highest standards of service, selection and quality. The proof is in the numbers: JustMensRings.com now offers the largest selection of men's fashion rings online, and is the only store in the United States that offers men's large size rings up to size 20. JustMensRings leads the competition with an unparalleled assortment of unique and alternative men's wedding rings in a range of traditional and contemporary materials including gold, platinum, palladium, titanium, tungsten, silver, stainless steel, cobalt chrome and Seranite (or ceramic). Despite the recent rise in gold prices, JustMensRings continues to keep item pricing low and affordable, and shoppers would be hard-pressed to find better deals elsewhere. JMR is dedicated to providing its customers with a simple and secure online shopping experience, and offers a 30 day guarantee and free shipping on all orders over $99.
For more information on JustMensRings, please visit http://www.justmensrings.com.