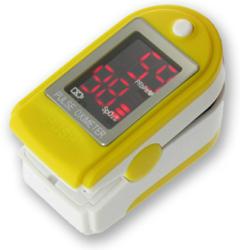 We want to provide all the medical equipment people need to manage whatever respiratory condition they have
Ashton, MD (PRWEB) January 02, 2013
This month, JustNebulizers.com has added oximeters to its already wide range of respiratory products. These portable, non-invasive medical devices measure the oxygen saturation levels and pulse rate of the user. "Oximeters have a wide variety of uses," explains Bryan Mercer, a pharmacist with over 30 years' experience. "Athletes, divers, and pilots will use them to make sure they're getting enough oxygen in their blood. People with heart conditions will use them to monitor themselves. But one of the biggest uses is by people with chronic respiratory conditions such as COPD or asthma. That's why we thought the same people interested in nebulizers might also be looking for oximeters."
Oximeters first became publically available in 1981, based on technology developed by bioengineers Takuo Aoyagi and Michio Kishi. Oximeters work by shining red and infared light through a translucent part of the patient's body, usually their fingertip. Absorption of these two wavelengths varies greatly depending on whether the patient's blood is oxygenated or deoxygenated. By measuring how much of the light gets through, the oximeter can calculate the blood's oxygen saturation level. To get even more accurate readings, oximeters also take the patient's pulse and use that information to adjust their calculations based on how quickly the blood is circulating.
JustNebulizers.com's parent company Just Health Shops had already been selling oximeters for years at JustOximeters.com, but wanted to expand their reach to people with respiratory conditions by adding the products to JustNebulizers.com.
"It's a win-win situation," said Mercer. "We get to see a bump in oximeter sales and at the same time boost the quality of the Just Nebulizers site by continuing to add more respiratory care products. We want to provide all the medical equipment people need to manage whatever respiratory condition they have."
About JustNebulizers.com
JustNebulizers.com provides respiratory products throughout the United States for people of all ages seeking the very best breathing treatments. JustNebulizers.com understands the importance of choosing the right nebulizer equipment. That is why they provide the largest selection of the best nebulizer systems, parts, accessories, and respiratory care products as well as comprehensive and informative details about all of their products. With a wide assortment of respiratory products at the very best prices, their products fit the needs of both young and old persons who need some breathing assistance.