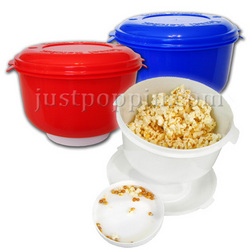 Giving our customers the chance to help a child and to treat themselves to something special this holiday season is a natural fit for JustPoppin.com.
Sarasota, FL (PRWEB) December 11, 2009
To wrap up the holiday season with some additional charitable giving, JustPoppin.com has packaged together a patriotic mix of red, white, and blue Kernel Katcher Popcorn Bowls at a special price and a full 15% of the gross sales price will be donated to the U.S. Marine Corps' Toys for Tots program.
Toys for Tots' fund raising efforts at Christmas time are legendary. For JustPoppin.com, the tie in between a fun food like popcorn, and bringing some fun to less fortunate children seemed natural. Knowing that customers would be buying Kernel Katchers to give as gifts anyway, JustPoppin.com created the Red, White, and Blue Toys for Tots 3 Pack, providing the bowls and the shipping at special reduced prices. This gives buyers the chance to treat themselves to something special while helping a child as well.
The American Made Kernel Katcher Popcorn Bowl was designed and patented by a dentist. Says JustPoppin.com's Jennie Smolow, "popcorn and home entertainment go hand in hand. When a person is engrossed in an entertainment experience, they are likely to reach into their popcorn bowl and put a handful into their mouth without looking for unpopped or under-popped kernels which can chip or break teeth and are also a choking hazard - especially for children. The Kernel Katcher Popcorn Bowl reduces these risks and makes enjoying entertainment at home safer and more delicious than ever."
JustPoppin.com has made fund raising and charitable giving a core part of its business. This program, benefiting Toys for Tots, is one in a line of programs benefiting organizations such as the American Cancer Society, icompassion.org, Last Opportunity for a Second Chance, the Michael Weiss Foundation, and others.
About JustPoppin.com:
JustPoppin is an online gourmet wholesale and retail company created by popcorn lovers and is a leading supplier of the unique mushroom popcorn variety of kernels, gourmet hulless popcorn kernels, and movie theater popcorn kernels to home users, group and office users, and small business users. JustPoppin.com's popcorn is always farm fresh from America's Heartland.
In addition to gourmet popcorn kernels, the company offers a variety of popcorn flavoring, seasoning, and popping oil, as well as "straight from the farm, fresh" caramel and other flavored, popped popcorn in decorative gift tins. JustPoppin.com also caters to groups and organizations with wholesale, as well as easy and profitable fundraising packages.
Visit JustPoppin now for wholesale inquiries or to set up your own popcorn fund raising program.
About Toys for Tots:
Toys for Tots is an annual program started by the U.S. Marine Corps more than 60 years ago with the goal of providing new toys at Christmas time to economically disadvantaged children. Each year, gifts are given to millions of children in communities all over the country. Toys for Tots depends on donations and gifts from individuals, organizations and companies to support its efforts. For more information, visit http://www.toysfortots.org. This news release does not express or imply endorsement of JustPoppin.com by Toys for Tots.
# # #