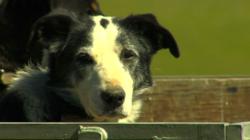 Manchester, NH (PRWEB) September 08, 2011
The International Design Guild is excited to announce Queen as the official sheep dog of the new Just ShornTM wool carpet line and congratulates Diane Walker on winning Just Shorn carpeting through the Just Shorn Official Sheep Dog Sweepstakes.
Throughout the months of April through July, online voters selected their favorite of six featured sheep dogs to be the official sheep dog of the Just Shorn brand. Each voter was also entered to win $2500 in Just Shorn carpet provided by an International Design Guild Showroom.
Featuring the Just Shorn sheep dogs gave American consumers a look into life on a New Zealand wool farm where sustainability is a way of life and the health and safety of the animals is a top priority. Queen works on Cannington Farm with Just Shorn wool grower Andy Scott. Livng up to her name, her queen-like attitude as leader of her pack won over the public to become the top Just Shorn dog. Queen also stars in a short online video about the role of working dogs on a New Zealand sheep farm. (http://youtu.be/LBzUUDslxFw).
Just Shorn carpets are part of the exclusive Dabbieri Collection sold through International Design Guild Showrooms throughout North America. These natural carpets and area rugs are made with the finest Just Shorn wool from New Zealand. The Just Shorn label provides confidence that the beautiful flooring is made from natural, sustainable fiber that can be traced back to New Zealand at any stage in the manufacturing and sale process.
As the newest addition to the exclusive Dabbieri Collection of floor coverings (http://www.dabbiericollection.com), Just Shorn wool carpets can be found in North America's premier, independently-owned showrooms — honored for excellence in quality, knowledge and service through membership in International Design Guild.
The Dabbieri Collection offers flooring that coordinates easily with traditional and contemporary interiors. Dabbieri is the ultimate in style and fine craftsmanship, created in an array of colors and patterns.
For more information on Just Shorn and, especially, to see a portfolio of carpet and rugs, visit http://www.justshorn.com.
About The Dabbieri Collection
The Dabbieri Collection is an offering of beautiful and natural decorative carpets that is exclusive to members of the International Design Guild. Representing the ultimate in style and fine craftsmanship, Dabbieri features wool and natural fibers, as well as new fiber combinations for subtle, yet rich colors and textures. The Dabbieri Collection also includes exceptional custom area rugs and quality hardwood flooring.
About The International Design Guild
The International Design Guild is an alliance of more than 100 luxury floor covering showroom owners throughout the United States and Canada. International Design Guild members have the right of first selection to the newest products and floor covering designs worldwide. They're known for outstanding product, expertise and assistance.
About Just Shorn
The Just Shorn brand is the assurance you are purchasing some of the world's most beautiful carpeting, created from the natural and renewable resource of New Zealand wool. Just Shorn carpets are built to last and reward the most discerning customers and their homes.
Born from a partnership between a group of pioneering New Zealand sheep farmers and a long established agricultural business, Just Shorn is owned by the partnership in New Zealand under the name Wool Marketing Enterprises Limited.
# # #