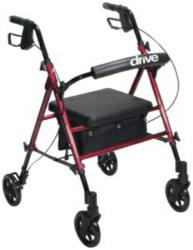 Many don't know where to begin when purchasing a rollator
Ashton, MD (PRWEB) November 13, 2012
"Rollators are still relatively new to the US," explains Bryan Mercer, a licensed pharmacist with over 30 years' experience. "People are becoming aware of the advantages they offer over traditional walkers, but many don't know where to begin when purchasing a rollator, either for them or for a loved one."
Rollators, also called rolling walkers, are a type of walker with a wheel at the bottom of each leg. The wheels do two things—1.) Users don't have to pick up the rollator, like they would a traditional walker. This allows them to move around quicker. 2.) The wheels allow for both indoor and outdoor use, whereas traditional walkers don't work well outdoors. But although rollators provide greater mobility, they don't offer the same amount of stability that a traditional walker does, so they're not for everyone.
With the holidays approaching, many are trying to figure out what to get their elderly loved ones. Rollators may be the perfect gift for those trying to remain active, but struggling to do so when using a traditional walker. "We thought this would be the perfect time to release the tip sheet," said Bryan. "Black Friday's just about here and that marks the start of holiday sales."
According to the tips sheet, the most important things to consider when getting a rollator are the width, weight capacity, how often the user travels, and whether they would prefer a three or four wheel rollator. "For the width, you need to keep in mind not only how well the user will fit the rollator but how well the rollator will fit the user's home. Sometimes people forget about every day obstacles such as skinny hallways or bathroom doors," said Mercer. "Weight capacity is simply how much the rollator can hold and there are options ranging up to 500 pounds. How often the user travels is another big consideration. If they'll be traveling a lot, they might prefer a foldable, lightweight rollator so it can be taken on planes or fit into car trunks."
When deciding between a three and four wheel rollator, Mercer says it's simply a matter of taste. "Three wheeled rollators are narrower and lighter, making them easier to navigate. But four wheeled rollators give more stability and include a rest seat for when users gets tired. Just choose whatever features you or the user would appreciate most."
About JustWalkers.com
Just Walkers provides premium walking aids throughout the United States for people of all ages looking for the best mobility products at the lowest price. They understand the importance of choosing the perfect mobility device to fit your needs. With this in mind, they offer only the best products, parts, and accessories including detailed information about each product and numerous user reviews to help you with your decision. They are proud to serve those who seek information and assistance in determining which walking aid works best for them. With a wide assortment of walking aids at affordable prices, JustWalkers.com is determined to make your shopping experience worthwhile.