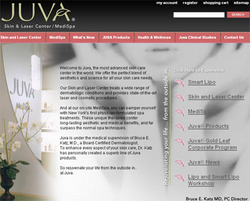 Juva is one of the most comprehensive laser and cosmetic surgery centers in the world
New York, NY (PRWEB) September 24, 2008
The innovation heralded as the biggest development in wrinkle correction in the last decade is now available at the most in-demand New York City skin care facility. Juva Skin & Laser Center, operated by the internationally famous laser skin treatment pioneer Bruce E. Katz, M.D., is now using the breakthrough Fraxel re:pair laser system in its state-of-the-art Manhattan center.
The Fraxel re:pair system from Reliant Technologies made its debut at the 66th Annual Meeting of the American Academy of Dermatology in February. It has received rave reviews since its introduction for essentially creating an all-new treatment category in skin resurfacing: Ablative Fractional Resurfacing.
Fraxel re:pair combines the laser-powered skin ablation capabilities that are characteristic of next-generation skin treatments with fractional delivery. Fractional delivery is a treatment process that allows small, specific fractions of skin to be treated individually. This portioning of treatment areas results in much faster and more comfortable recovery periods than those of non-fractional treatments.
As the only FDA-approved laser of its kind, the device uses minimally invasive skin penetration to create results similar to those of traditional laser resurfacing, but without the lengthy recovery and risks of complications associated with the original procedure. The unique design of the system also enables the New York City laser resurfacing staff at Juva Skin to conduct each procedure with a single clinician, an impossible task with other ablative resurfacing tools.
"Juva is one of the most comprehensive laser and cosmetic surgery centers in the world," explains Katz, Director of Juva Skin & Laser Center. "By adding lasers like Fraxel re:pair to our facility as soon as they're approved by the FDA, we're able to stay ahead of the curve and offer our patients the best of the best."
Juva's New York City laser resurfacing experts use Fraxel re:pair to tighten and rejuvenate skin and reduce the appearance of wrinkles and pigmented lesions. Most treatments are completed in a matter of minutes and require no inpatient care.
To learn more about the Fraxel re:pair laser system and Juva Skin & Laser Center, the leading New York City skin care facility, visit juvaskin.com.
About Juva Skin & Laser Center:
Juva Skin & Laser Center is among the most renowned New York City laser resurfacing facilities in the booming cosmetic surgery industry. Board Certified Dermatologist Bruce E. Katz, M.D., the director of Juva, oversees the facility's advanced laser equipment and New York City skin care clinicians who treat numerous dermatological diseases, conditions and cosmetic imperfections. Juva also features a comprehensive on-site medical spa and sells a proprietary line of personal skin care products.
###