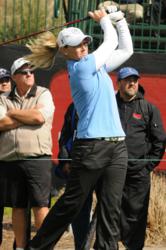 I know that research is the key to finding new treatments and a cure.
Long Beach, CA (PRWEB) July 07, 2011
July is a celebratory month for America, but for the 300,000 American children suffering with arthritis, it is a month to tell their story and inspire others. One such child was LPGA golf professional, Kristy McPherson, who was diagnosed with a rare form of juvenile arthritis. Here is her story.
When you watch her strike the ball she exudes skill, confidence and professionalism. She competes at the highest level in women's golf, going toe-to-toe with the best in the world. You would never guess that each day Kristy McPherson deals with the pain of juvenile arthritis. "I don't know what I'd do if there was a day I woke up without pain," says Kristy. "It's part of my life and I have to make it work. I can't, I won't quit."
Kristy McPherson was diagnosed at age 11 with Still's Disease, a rare form of Juvenile Rheumatoid Arthritis. Confined to bed for over a year, Kristy longed for team sports like softball and basketball, in which she had always competed. Now her doctors said she could no longer play sports that caused stress on her joints. In fact, they said, she would be lucky to walk again. However, the ultra-competitive Kristy is not one to take no for an answer. She turned to golf and, with the support of her family, Kristy thrived.
Today, Kristy is a well-loved competitor on the LPGA Tour. She played on the winning Solheim Cup team, appeared on the TV series, "The Big Break", and is consistently a top finisher in tournaments around the world. As Kristy's career as an LPGA tour professional has taken off, she wanted to make a difference. She is committed to finding a cure for arthritis, so earlier this year Kristy joined the Arthritis National Research Foundation (ANRF) Board of Directors. "I have been truly blessed and I am very grateful for the opportunities that I have had," says Kristy, "It is my turn to give back by serving as a role model for children and adults with debilitating arthritis."
"I know that research is the key to finding new treatments and a cure. The Arthritis National Research Foundation concentrates its efforts only on research, which is why I am so excited to be involved." And, ANRF places 91 cents of every dollar into research programs.
Her colleagues on the board were excited to welcome Kristy to the team, but perhaps no one more than Kelly Rouba, national spokesperson for ANRF and fellow juvenile arthritis sufferer. "When kids with arthritis see Kristy McPherson playing golf on the LPGA tour, they are motivated to challenge themselves," Kelly says.
ANRF is dedicated to finding a cure for all types of arthritis, including juvenile arthritis. "The Kelly Award for Juvenile Arthritis Research", is an annual research grant named in honor of Kelly Rouba, who was diagnosed with juvenile rheumatoid arthritis at age 2. Confined to a wheelchair since middle school, Kelly, 31, is a successful author, business person and advocate for people with disabilities. Her life, like Kristy's, serves to inspire children and adults alike.
In honor of Juvenile Arthritis Month, Kristy and Kelly ask that you join them in the search for a cure so that the 300,000 children in America may have pain-free and normal lives. Visit http://www.CureArthritis.org to learn more.
Since 1952, the Arthritis National Research Foundation, based in Long Beach, CA, has been committed to funding the next generation of research scientists by providing grants to promising young investigators with innovative research projects. The research has resulted in the discovery of the molecule that initiates inflammation in rheumatoid arthritis, breakthroughs in the use of the gene therapy and other treatments currently in clinical trials for arthritis patients. Arthritis is the leading cause of disability from which 50 million Americans, including 300,000 children, suffer.
###