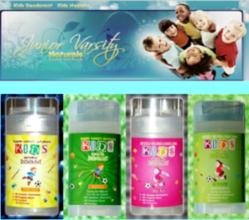 If you're looking for a natural deodorant for kids...Junior Varsity Natural Kids Deodorant is the perfect product.
Los Angeles, California (PRWEB) December 23, 2012
Consumers have the chance to win a set of children's deodorant products from Junior Varsity Naturals. Junior Varsity Naturals Children Deodorant are designed to be safe for children. Consumers may enter these sweepstakes through the online sweepstakes platform developed by Sweepstakes Ninja.
Junior Varsity Naturals was started and put together by two long time friends that had noticed a need for a kids deodorant. This partnership was founded for one reason, to provide healthy all natural product alternatives for people of all ages. The two founders researched and discovered that many deodorants contained parabens, glycols and aluminum, potentially harmful chemicals for the well being of an individual, especially a child. So with the help of scientists and laboratories, they designed the Junior Varsity Naturals product line of children's deodorants, the first all natural, safe, children's deodorant.
Sweepstakes Ninja gives people the chance to learn about unique companies such as Junior Varsity Naturals, while at the same time giving them the chance to win prizes. People may enter the sweepstakes through the sweepstakes draws (http://sweepstakesninja.com/sweepstakesdraw/draw/jvnaturals-kids-deodorant-II/). They are daily entry draws, that not only give people chances at winning amazing prizes, but also introduces unique companies to them. Through the sweepstakes draws, contestants have a chance of winning a unique and memorable gift from Junior Varsity Naturals.
The sweepstakes may be entered through the Sweepstakes Ninja website. To increase their chances of winning, entrants may share sweepstakes links with friends, family, and through social media. This is a win-win situation for both Junior Varsity Naturals and the entrant. Entrants increase their chances of winning award winning products, and more people learn their line of children's deodorants.
About SweepstakesNinja.com
SweepstakesNinja.com designs fun and interactive sweepstakes. The company matches consumers with companies, in a fun and interactive manner. Entrants have the chance of winning amazing prizes, and have fun participating in the sweepstakes. Companies benefit from exposure to their brands, word of mouth advertising, customer loyalty, and long term increases in profit. For more details, visit http://www.sweepstakesninja.com/.