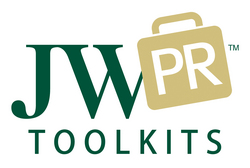 The JW PR Toolkits series will help users create the kind of professional press release that will get an editor's attention. Figuring out how media works can be a bit of a mystery.
(Vocus) July 22, 2010
The new JW PR Toolkits series has expanded to include new and updated content that includes valuable, thorough information on incorporating social media into an effective public relations campaign as well as more tools to help small businesses garner positive media coverage.
The series also has added kits for more types of small businesses, now including kits for retailers, beauty and spa businesses, medical/dental businesses, web start-ups, restaurant/food service businesses, sports businesses, retailers, real estate businesses and professionals as well as a kit that is appropriate for small businesses in general.
While the competition may be cutting marketing spending, it's the perfect time for smart business owners to launch or ramp up a solid public relations campaign. But budgets are tighter than ever, and long-term PR campaigns may be beyond what many small businesses can afford right now.
The new JW PR Toolkits series was created by JW Public Relations, a national boutique PR firm that receives dozens of inquiries every week from businesses asking for help, yet unable to invest in the kind of campaign they need. These valuable kits have all of the tools any business or nonprofit needs to plan and execute a "do-it-yourself" PR campaign on a shoe-string budget.
These customized JW PR Toolkits offer information, ideas and templates for different types of businesses, as well as authors and nonprofits. The information in these toolkits was developed, written and reviewed by some of the country's best veteran journalists--editors and reporters who work in the print, broadcast and online media every single day. They know what public relations efforts attract attention, and they are sharing this inside information here.
Milwaukee Journal Sentinel Deputy Business Editor Bob Helbig said that he routinely fields calls from businesses that don't know where to begin in getting all-important media attention.
"The JW PR Toolkits series has the answers to their questions," Helbig said. "It will help users create the kind of professional press release that will get an editor's attention. Figuring out how media works can be a bit of a mystery. These kits will help business owners understand what they need to do to get their message out. They offer everything you need to know about working with the media."
JW PR Toolkits also offers kits for churches, authors and nonprofits.
Each kit, available for immediate download as a Zip file of PDF and Word documents, includes valuable articles and documents on topics including:

About Press Releases
What Makes News?
Ideas for News Angles
How to Write a Press Release
Search Engine Optimizing Press Releases
Press Release Distribution
What is a Media Kit?
What is an Electronic Media Kit?
PR and Social Media
Visuals: Using Images to Tell Your Story
PR and social media
Media Pitching
Media Training
Crisis Communications
Maximizing the PR Potential of Your Website
How to Reach Bloggers
Strategies for Better Coverage
Glossary of PR Terms
The kits also include customized press release templates, example press releases and ideas for news releases relevant to business type. Each kit is $99, less than the cost of hiring a PR professional to write a simple press release.
For more information, visit http://www.jwprtoolkits.com.
About JW Public Relations
JW Public Relations is a Michigan-based boutique PR firm specializing in helping small businesses garner positive media coverage. Led by a veteran PR professional and journalist, the JW Public Relations team includes current and former broadcast and print reporters and editors as well as other experienced PR pros.
###