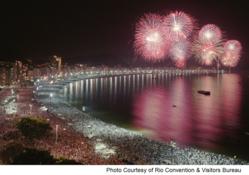 Rio de Janeiro, Brazil (PRWEB) October 26, 2011
A five-star Copacabana hotel located in one of the most beautiful beaches in the world, the JW Marriott Hotel Rio de Janeiro offers special packages for New Year's Eve and Carnival 2012 in the "Marvelous City." The year-end holiday is the most popular festival in town and welcomes more than 1 million people on Copacabana Beach to celebrate the New Year with spectacular fireworks. During Carnival, colors and sounds invade the city, being the most popular festival in the world.
Travelers who wish to celebrate either of these exciting holidays at the JW Marriott Rio de Janeiro Hotel can take advantage of two great Brazil hotel deals.
New Year's Eve 2012
The New Year's Eve package includes three nights – from Thursday through Sunday (December 29, 2011, through January 1, 2012), with daily breakfast served at Terraneo Restaurant for up to two adults. This hotel in Rio also hosts two big festivities in the Réveillon. One takes place on the rooftop, where guests have a breathtaking view of the Copacabana beach. The other celebration occurs in the restaurant. The festivities are not included in the package. Use promotional code ER5 to book the New Year's Eve 2012 deal online at http://www.marriott.com/riomc.
Carnival 2012
For the Carnival, which takes place February 17-22, 2012, the JW Marriott Hotel Rio de Janeiro is the best option in town for enjoying the beautiful beaches of Copacabana, Ipanema and Leblon. Guests at this Rio hotel can watch the local street celebrations or travel to the Sambodromo and watch the exciting Samba Schools performances. This holiday is the biggest party in the world and Rio de Janeiro is the center of fun. The Carnival 2012 package includes daily breakfast for two, but requires a four-night stay through February 19, 2012. To book this Rio de Janeiro hotel deal, use promotional code ER5 online.
About the JW Marriott Hotel Rio de Janeiro
Whether looking for a getaway or some relax and relation, guests can discover exceptional comfort and fun at the JW Marriott Hotel Rio de Janeiro. Mirante Copacabana, located on the hotel rooftop along with the pool, offers stunning views of the entire Copacabana beach and two of the main city landmarks: the Sugar Loaf and Christ the Redeemer. This Rio de Janeiro hotel also features a beachfront 24-hour fitness center, cozy massage rooms for relaxing moments and a dry sauna in the changing rooms. Guests can also enjoy the beach service with exclusive deck chairs, beach umbrella, towel and security. Guests who want to enjoy holiday programs can use the concierge service, with professional staff trained to offer great leisure tour suggestions. Delicious food options await at the Terraneo Complex, the JW Marriott Rio de Janeiro Hotel's on-site restaurant. For more information, visit http://www.marriott.com/RIOMC
###