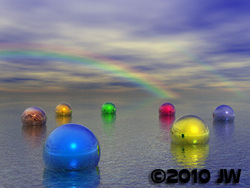 Home is where the heart is.
Des Moines, IA (PRWEB) March 1, 2010
The fumes of paint on canvass are leaving the vapors behind as new art in the digital medium sets a path for an artist vision. Latest technology brings new worlds to life as the digital canvas.
It's been said that "Home is where the heart is." From a rough day at work or with a busy life people want peace in their living area. Walls can help place some unique style that will help moods. Certain digital art can ease or excite a person's well being. At http://www.jwdigitalart.com any home can help with a balance of serenity.
The artist JW has been working hard to make art stand out. Piece by piece is a love the flows out of a mind that needs to be shared with the world. Setting the pace with passion and attitude on the course of digital art is only the beginning. Layers of ideas and concepts are outputted in 30"x20" prints. At this time there are 20 images with a story of their own.
Digital art is the new medium that is rarely being showed. JW has four pieces up at his local Barnes and Noble bookstore. Never having this kind of work displayed before people are truly amazed at the peaceful tone that the images give off. His "Water Balls" series is being proclaimed as "Tranquil to the soul".
Let those affordable 30"x20" images give off a wonderful mood for you and your walls. Life is short so why not enjoy it with JW. Check out his website at http://www.jwdigitalart.com This is the only site to get his works at and in the future certain galleries may carry certain prints.
###