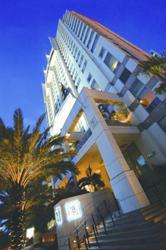 The JW Marriott Hotel Miami is proud to present this one-of-a-kind exhibition during Art Basel Week.
Miami, FL (PRWEB) November 13, 2012
Miami's art community in 1976 was very different than today's Art Basel-fueled frenzy. But when the city's cultural leaders were brought together back then by pied-piper artist Martin Kreloff for the original "Miami Says ART," little did they know as they looked into his camera and shouted "ART" that they were foreshadowing an art destination no one could have dreamed would happen. Thirty five years later, some of these same influencers that shaped Miami's arts community are being reunited for a retrospective by the visionary artist – and the launch of "Miami Says ART-2."
Presented by the JW Marriott Hotel Miami (1109 Brickell Avenue), the retrospective runs December 3rd ̶ 9th, ushering in Miami's Art Basel week. The exhibition will feature portraits from the exhibit and a multimedia documentary with photos and video from 1976, and is open to the public between the hours of 10:00 a.m. and 8:00 p.m.
The artist Martin Kreloff says: "It was clear to me back in 1976 that I could capture Miami's cultural leaders each saying "ART" and turn it into the ultimate group show. Today I am thrilled to present this tribute to Miami's cultural spirit that has blossomed into a world-class art destination. I am so proud of you, Miami."
The exhibition also features the launch of "Miami Says Art-2," featuring an online, modern-day cultural time capsule that will honor Miami's New World School of the Arts (NWSA) throughout its 25th anniversary year of 2013. "This is a terrific opportunity for our students," says Dennis Edwards, Foundation Board Chair for the NWSA. "We are honored to be representing the future in this time-capsule honoring Miami's arts leaders."
Kreloff is partnering with students from The New World School of the Arts on his new web-installation "Miami Says Art-2." For the new online cultural time-capsule, some of the community's new cultural champions are being selected to pose for the cameras, once again saying "ART" to celebrate Miami.
"The JW Marriott Hotel Miami is proud to present this one-of-a-kind exhibition during Art Basel Week," said Florencia Rotemberg, General Manager of the hotel. "We wanted to showcase our commitment to Miami by presenting this truly local retrospective that demonstrates our community's rich arts history, honoring our cultural leaders, and paying tribute to the New World School of the Arts' 25th anniversary."
The exhibition features portraits and photographs of the original "cast," many of whom have become some of Miami's (and the nation's) most renown arts leaders, including: American figurative artist Alex Katz; Arnold L. Lehman, director of the Brooklyn Museum (who presented the original "Miami Says Art" while director of Miami's Metropolitan Museum and Art Center); collectors/philanthropists Ruth Shack and Martin Z. Marguiles; Judy Drucker, cultural impresaria; socialite/designer Gloria Vanderbilt; arts publicist Charlie Cinnamon; Miami arts advocate Margarita Cano; legendary gallerists Dorothy Blau, Gloria Luria and Virginia Miller (co-presenter of the 1976 exhibition); abstractionist Lynne Golob Gelfman; and the Founding Director of the Museum of Contemporary Art in North Miami, Lou Anne Colodny.
At the exhibition's private opening reception, ten students and alumni from The New World School of the Arts will be paired with original 1976 "Miami Says ART" cast members for a festive living tableau and photo/video-opp. City of Miami Mayor Tomas Regalado, along with Commissioner Marc Sarnoff, will present a proclamation declaring it "Miami Says ART Day." Media RSVP is required to attend the private opening reception.
About the Artist Martin Kreloff:
Martin Kreloff's work is held by the New York Museum of Modern Art and dozens of other prestigious galleries, museums and corporate collections across America. Kreloff first sprang onto the American art scene in Miami in 1976, when he captured Miami's arts leaders in a pioneering collective portrait series expressing the passion and emotion of the word "ART" for his first museum solo show "MIAMI SAYS ART." Captivating the community, it helped the young city learn to celebrate and promote the arts. Many of his paintings found their way into the personal collections of some of the nation's most accomplished celebrities including Cary Grant, Joan Crawford, Ann Miller, Esther Williams and Gloria Vanderbilt. Kreloff has been commissioned to create artwork for corporate clients such as Warner Brothers; Universal Pictures; Royal Caribbean Cruise Lines; Nielsen/National Research Group; Harley Davidson; Bloomingdale's; The American Civil Liberties Union; The Miami Herald; and The San Francisco Chronicle. http://www.martinkreloff.com
About the JW Marriott Hotel Miami:
Majestically located on historic Brickell Avenue in the heart of Miami's Financial District, the 296-room JW Marriott Hotel Miami is an urban utopia. The luxury hotel's new season is heralded by renovations including: three new Concierge Level floors plus a new Spa and TechnoGym facility. Awards and accolades include: the World's Best Business Hotel award from Travel + Leisure; the Award of Excellence for six consecutive years (2007-2012) from Wine Spectator Magazine; Elite Meetings International's Certificate of Excellence Award; the Award of Distinction from Wine Enthusiast Magazine; the Connoisseur's Choice award from Resorts & Great Hotels; and Global Finance Magazine's World's Best Hotel; and Marriott International's Hotel of the Year for 2008 and for 2000. http://www.marriott.com/hotels/travel/miajw-jw-marriott-hotel-miami/ 1109 Brickell Avenue, Miami, FL 33131 (305) 329-3500