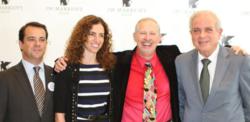 We wanted to showcase our commitment to Miami by presenting this truly local retrospective that honors our cultural leaders.
Miami, FL (PRWEB) December 07, 2012
The JW Marriott Hotel Miami presented "Miami Says ART/The Retrospective" by artist Martin Kreloff, attracting more than 100 of Miami's arts leaders to the opening reception on December 3rd, ushering in Art Basel Week. According to Miami Herald's Visual Arts Editor Jane Wooldridge, who praised the event on day one of her Art Basel Week blog: "Art Week Miami has kicked off as perhaps it always should but never has - with a tribute to the city's arts-loving pioneers. It was something of an Old Home Week scene Monday morning at the JW Marriott Hotel on Brickell Avenue when a few hundred of Miami's arts pioneers and current cognoscenti turned up for a reprise of Martin Kreloff's 1976 Miami Says Art project."
The list of Miami's arts VIPs who showed up to say "Art!" reads like a cultural hall-of-fame, including: Miami-Dade Cultural Affairs Council's chairman Adolfo Henriques, and executive director Monty Trainer (also president of the Coconut Grove Arts Festival); director of the Brooklyn Museum Arnold Lehman; New World Symphony CEO Howard Herring; president/CEO of the Arsht Center John Richard; Dr. Carol Damian, director of the Patricia and Phillip Frost Museum at FIU; Wolfsonian director Cathy Leff; Dr. Jeffrey Hodgson, New World School of the Arts Provost; Ruth Shack; Dahlia Morgan; Swannee DiMare, Frances Sevilla-Sacasa; Carmen Betancourt-Lewis; Deborah Hoffman; Harvey Burstein; Dennis Edwards; Mark Steinberg; Roberta and Eric Fliss; Marc Levin; artist Lynn Gelfman; gallerist Virginia Miller; Mary Luft; Rosie Gordon-Wallace; Beth Boone; Charlie Cinnamon; David Leddick; Michael and Mary Ellen Peyton, and Iran Issa-Kahn. City of Miami Mayor Tomas Regalado presented a proclamation, declaring it "Miami Says Art Week."
The artist Martin Kreloff said: "It was clear to me back in 1976 that I could capture Miami's cultural leaders each saying "ART" and turn it into the ultimate group show. I was thrilled to present this tribute to Miami's cultural spirit that has blossomed into a world-class art destination. I am so proud of you, Miami." The exhibition also launched "Miami Says Art-2," a new cultural time capsule honoring Miami's New World School of the Arts' 25th anniversary. "This is a terrific opportunity for our students," says Dennis Edwards, Foundation Board Chair for the NWSA. "We are honored to be representing the future in this time-capsule honoring Miami's arts leaders."
"The J W Marriott Hotel Miami was proud to present this exhibition during Art Basel Week," said Florencia Rotemberg, General Manager of the hotel. "We wanted to showcase our commitment to Miami by presenting this truly local retrospective that honors our cultural leaders."
About the Artist Martin Kreloff:
Martin Kreloff's work is held by the New York Museum of Modern Art and dozens of other prestigious galleries, museums and corporate collections across America. Kreloff first sprang onto the American art scene in Miami in 1976, when he captured Miami's arts leaders in a pioneering collective portrait series expressing the passion and emotion of the word "ART" for his first museum solo show "MIAMI SAYS ART." Captivating the community, it helped the young city learn to celebrate and promote the arts. Many of his paintings found their way into the personal collections of some of the nation's most accomplished celebrities including Cary Grant, Joan Crawford, Ann Miller, Esther Williams and Gloria Vanderbilt. Kreloff has been commissioned to create artwork for corporate clients such as Warner Brothers; Universal Pictures; Royal Caribbean Cruise Lines; Nielsen/National Research Group; Harley Davidson; Bloomingdale's; The American Civil Liberties Union; The Miami Herald; and The San Francisco Chronicle. http://www.martinkreloff.com
About the JW Marriott Hotel Miami:
Majestically located on historic Brickell Avenue in the heart of Miami's Financial District, the 296-room JW Marriott Hotel Miami is an urban utopia. The luxury hotel's new season is heralded by renovations including: three new Concierge Level floors plus a new Spa and TechnoGym facility. Awards and accolades include: the World's Best Business Hotel award from Travel + Leisure; the Award of Excellence for six consecutive years (2007-2012) from Wine Spectator Magazine; Elite Meetings International's Certificate of Excellence Award; the Award of Distinction from Wine Enthusiast Magazine; the Connoisseur's Choice award from Resorts & Great Hotels; and Global Finance Magazine's World's Best Hotel; and Marriott International's Hotel of the Year for 2008 and for 2000. http://www.marriott.com/hotels/travel/miajw-jw-marriott-hotel-miami/
1109 Brickell Avenue, Miami, FL 33131 (305) 329-3500
All event photos provided by Hector Gabino.