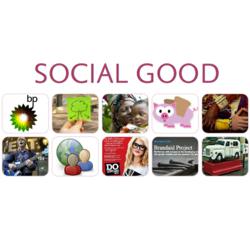 A number of macro trends are influencing social good initiatives today, including the call for greater transparency, as well as greater corporate and brand participation, rapid urbanization and advancements in technology
New York, NY (PRWEB) September 15, 2011
In its September trend report, JWT, the world's best-known marketing communications brand, surveys trends in Social Good, or the drive to be responsible citizens and effect positive change.
"A number of macro trends are influencing social good initiatives today, including the call for greater transparency, as well as greater corporate and brand participation, rapid urbanization and advancements in technology," says Ann Mack, director of trendspotting at JWT. "As a result, we're seeing less 'goodwashing,' creative strategies for urban renewal and innovative new donation channels from for-profits and nonprofits alike."
The trend report is the result of quantitative, qualitative and desk research conducted by JWTIntelligence in partnership with EthosJWT, a unit specializing in brand strategy, ideas and activation for social change and social benefit. JWTIntelligence and EthosJWT interviewed experts and influencers from the nonprofit and corporate social responsibility sectors and conducted quantitative surveys in the U.S., the U.K. and Canada. The surveys used SONAR™, JWT's proprietary online tool, to poll 908 adults aged 18-plus from June 28-July 6, 2011.
The report explores four key trends:

The End of Goodwashing: Today's consumers expect greater accountability from nonprofits as well as brands involved in cause marketing—e.g., exactly where the money is going and what impact it's having. More transparency will mean more focus on effecting real change and less "goodwashing."
The Rise of Shared Value: More corporations are starting to shift their business models, integrating social issues into their core strategies. The aim is to create shared value, a concept that reflects the growing belief that generating a profit and achieving social progress are not mutually exclusive goals.
Creative Urban Renewal: As the global population becomes more urbanized and cities boom, brands are becoming key partners in enabling creative strategies for urban renewal—improving local environments, adding beauty or helping to bring communities together.
Ripping a Page From the For-Profit Handbook: Nonprofit organizations are increasingly adopting for-profit tactics, fusing social consciousness with business acumen and focusing on achieving visible change.
"One of the most interesting developments in the area of social good is the rise of 'shared value'—by putting social issues at the center of their strategy, brands can benefit their business, their customers and society in general," says Tony Pigott, global director of EthosJWT and president and CEO of JWT Canada. "By reconsidering products and target demographics, forging partnerships with local groups and improving productivity in the value chain, companies can become a force for positive change while enhancing their long-term competitiveness."
The report also outlines things to watch in the Social Good space, including gamification, new ways to incentivize online engagement and donation channel innovation, and highlights a number of standout case studies from around the world.
Findings from the surveys in the U.S., the U.K. and Canada include:
People are cynical about where their donations go: 88% of American, British and Canadian adults said they are "sometimes suspicious about how much of the money I donate actually goes to people in need, as opposed to management and administrative costs." Britons (91%) were more apt to say this than Canadians (87%) and Americans (85%).
Consumers believe corporations should do more good: 9 in 10 respondents felt that "Companies need to do more good, not just less bad." More Canadians (95%) felt this way than Britons (91%) and Americans (83%).
Brands have a responsibility toward local communities: 84% of adults across all three markets agreed with the statement, "Brands and large corporations have a responsibility to improve the local communities in which they do business." Those in Canada (87%) and the U.K. (87%) agreed with this more than respondents in the U.S. (77%).
"Social Good" is available on JWTIntelligence.com. Additional knowledge and research on JWTIntelligence.com includes the recent trend reports Fear of Missing Out, Social Commerce, Tablet Checklist, 10 Trends for 2011 and 100 Things to Watch in 2011.
About JWT ---
JWT is the world's best-known marketing communications brand. Headquartered in New York, JWT is a true global network with more than 200 offices in over 90 countries employing nearly 10,000 marketing professionals.
JWT consistently ranks among the top agency networks in the world and continues its dominant presence in the industry by staying on the leading edge—from producing the first-ever TV commercial in 1939 to developing award-winning branded content for brands such as Smirnoff, Macy's, Ford and HSBC.
JWT's pioneering spirit enables the agency to forge deep relationships with clients including Bayer, Bloomberg, Cadbury, Diageo, DTC, Ford, HSBC, Johnson & Johnson, Kellogg's, Kimberly-Clark, Kraft, Nestlé, Nokia, Rolex, Royal Caribbean, Schick, Shell, Unilever, Vodafone and many others. JWT's parent company is WPP (NASDAQ: WPPGY).
About EthosJWT ---
We think there is an emerging Marketplace: the Marketplace for Social Change. It is evident in the public's concerns on issues from climate change to community. It is evident in the actions of leading corporations, governments, nonprofits and brands. This is why we started EthosJWT ten years ago.
EthosJWT is a nationally and globally recognized expert in helping organizations create breakthrough social strategies against a broad range of social contexts and stakeholder demands/needs. An integrated practice within JWT, EthosJWT helps our clients harness the power of brand strategy, ideas and activation for social good/social change. The goal is to make a true impact on the issues most relevant to our clients, their key audiences, and the communities in which they live, and in the process add new depth and meaning to the organization and its brand.
EthosJWT provides a full range of strategic marketing, advertising and communications services utilizing talent of JWT including:
Leading CSR/citizenship platforms/programs
Igniting social issues and causes
Animating/activating social movements
Unleashing brand/consumer power for social good/social change
###