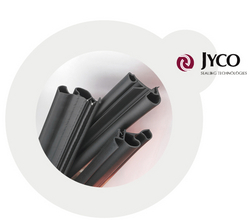 The global opportunity stimulated Jyco's competitive nature
Brussels, Belgium (PRWEB) December 6, 2007
General Motors has awarded its contract for the glass run channel and outer belt weathersealing system in its new global automobile program to Jyco Sealing Technologies (http://jyco.net). The program calls for producing virtually identical vehicles on four continents: North America, Latin America, Asian Rim and Europe.
"The global opportunity stimulated Jyco's competitive nature," says Jennifer Redding, Jyco program manager. "GM's original SOR specified EPDM, but they were interested in the advantages that our TPV (thermoplastic vulcanizate) parts could bring to the program. Our managers around the world grabbed onto the challenge of proving that TPV was the material of choice, and that Jyco was the supplier to work with worldwide."
Jyco is a global leader in TPV sealing technology, and the only major weatherstrip supplier working exclusively with this rubber-plastic compound. Introduced by Jyco to the North American automotive industry in 2000, TPV offers a number of performance and environmental advantages over EPDM counterparts.
Working with GM, Jin Kameyama, Jyco's Business Manager in Asia, initiated the effort in early 2007 after receiving a Statement of Requirements for the OEM's joint global car program.
Using electronic conferencing tools to overcome the distance and time zone differences, the Jyco Asia team worked closely with Jyco's engineering center in Dexter, Michigan. Jim Browell, CAE group leader, and Benoit Singher, director of production vehicle engineering, developed the design incorporating the advantages of TPV over EPDM.
The Jyco Asia team compiled and formatted Dexter's work per General Motor's direction, and presented it in Korea. GM liked what they saw, and handed it off to their global purchasing unit in Europe.
Back in Michigan, Jennifer Redding worked with Jyco COO Shawn Jyawook and account manager Steve Corcoran to establish costs for the proposed designs. The estimates were reviewed with Rob Janisch, Jyco Europe sales manager based in Belgium. Janisch then took the baton, presenting the financials and a technical overview to GM Global Purchasing. Three weeks later, the contract was officially awarded to Jyco.
Since its founding in 2000, Jyco has established itself as a world leader in TPV design, engineering and process technology for automotive, heavy truck and RV weathersealing applications. The company has operations in the Belgium, Canada, China, Japan, Mexico and the United States. Jyco's global headquarters is in Dexter, Michigan.
# # #