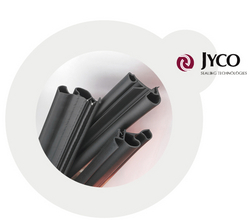 From day one, our operations were built on an environmentally conscious philosophy. We take this attitude on the road every way we can.
Dexter, Michigan (PRWEB) May 15, 2008
Less than a decade ago, the window and door sealing systems that buffered most cars' interiors from the outside elements were themselves something of an environmental liability. The material of choice for automotive weatherseals was EPDM (ethylene propylene diene monomer), a rubber compound that typically generated volatile organic compounds, carbon particulate emissions and dumpsters full of unreclaimable scrap during processing.
In 2000, a start-up Michigan-based company called Jyco Sealing Technologies set out to change that. Their magic bullet was a relatively new compound called TPV, short for thermoplastic vulcanizate. Unlike EPDM, this rubber-plastic blend could be processed without generating VOCs or particulate emissions, and scrap was 100% recyclable.
While TPV's advantages were recognized by some Japanese and European OEMs, North American sealing suppliers had yet to embrace the transition due largely to the expense of retooling existing EPDM extruding lines. As a new company, Jyco didn't have that burden. It was also starting with a world of technical expertise. At the helm of the enterprise was Sam Jyawook, a well-known industry veteran and pioneer in such weathersealing innovations as finite element analysis, multi-durometer extruding, robotic assembly and glass encapsulation process technology.
Since then, it's been a wild, emissions-free ride for Jyco as the company has grown to become a world leader in TPV technology for automotive, heavy truck and RV weathersealing applications. Along the way they've won such accolades as one of the Michigan BPA's "101 Best & Brightest Companies to Work For," Entrepreneur Magazine's "Hot 500 Companies," and SPE's top award for Material Innovation, as well as recognition as the only TPV supplier TS/ISO/16949/9000 certified for design, testing and manufacturing.
Contributing to Jyco's success is the fact that the advantages aren't just green; Jyco's proprietary TPV compound, JyFlex, has proven to outperform traditional EPDM seals in many areas. The combination has earned JyFlex a place on a number of hybrid and electric vehicles.
Earlier this year, Jyco announced JyGreen, a major breakthrough in rubber reprocessing technology. The process utilizes reground EPDM from recycled tires and other sources in extruded TPV for high performance automotive weathersealing systems.
"This is a major advantage for our customers trying to build the greenest possible vehicles," stated Shawn Jyawook, Jyco's chief operating officer. "Until now, R-TPV (recycled thermoplastic vulcanizate) has been limited to dunnage or basic injection molded parts like grommets, bushings, bumpers and mud flaps. With JyGreen, we extend the environmental and cost benefits to primary seals, glass run channel, hood and trunk lids, sunroofs and other demanding weather sealing applications. It's a bright green win all the way around. We're keeping a bulk contributor out of landfills, helping our customers build more environmentally responsible vehicles than ever before, giving consumers better performing weather sealing systems, and saving everyone money in the process."
The company takes a similarly green approach to its facilities, which now include locations in Canada, China, Japan, Mexico and the United States. They are developing corporate policies for LEED standards to guide all future renovations, expansions and new plant construction, even for their facilities in low-cost offshore countries where tight environmental standards do not apply. The Leadership in Energy and Environmental Design (LEED) Green Building Rating System is the United States' accepted benchmark for the design, construction, and operation of high performance green buildings.
The company acts locally as well as globally. Jyco is the corporate sponsor of Team Dakotech-Trek, a group of Michigan-based endurance athletes who use mountain biking and triathlons to promote environmental stewardship and the awareness, support and usage of the Michigan state park system. Shawn Jyawook is also one of the team's athletes, and finished Runner-up in last year's Michigan Mid East Sprint Series.
"Thinking green is a way of life at Jyco," says Shawn Jyawook. "From day one, our operations were built on an environmentally conscious philosophy. We take this attitude on the road every way we can."
For more information contact:
Russell Slocum
The Slocum Group
610.796.0418
rslocum@slocumadv.com
###