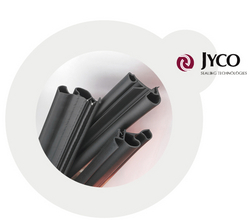 'Relax' isn't in our corporate vocabulary
Sherbrooke, QC (PRWEB) October 27, 2007
EPDM is fading, figuratively and literally, and Jyco Sealing Technologies is aggressively looking to sharpen the competitive edge of its TPV weathersealing systems by expanding its testing and product development capabilities.
Since introducing thermoplastic vulcanizate (TPV) parts to North American OEMs in 2000, Jyco has helped this greener, more versatile rubber/plastic compound become the industry standard for excellence in weatherseal applications. Compared to the incumbent EPDM parts, Jyco's TPV systems charted impressive reductions in weight, cost, production time and environmental impact. Their JyFlex TPV compound won't chalk after years of exposure, which is a problem for EPDM.
With EPDM fading in the rearview mirror, you might think that Jyco would coast for a while. Instead, they've turned their attention toward what they consider to be one of the few areas where EPDM still competes - acoustic performance.
Recent acoustic testing of door seals by Kolano and Saha Engineers compared EPDM sponge parts to geometrical equivalents of extruded JyFlex. They recorded similar results up to 900 Hz, but at higher levels, the JyFlex part significantly improved acoustic performance against wind rush and road noise.
In addition to expanding their own acoustic testing capabilities at Jyco's Dexter, Michigan engineering center, CAE team leader Jim Browell and other company leaders are exploring collaborative efforts with the University of Sherbrooke, located near Jyco's main North America plant in Quebec. Plans include developing an insertion loss chamber to correlate numerical acoustics methods such as FEA, BEM, or SEA to transmission loss and insertion loss test data across seal sections. This could also be used to study and compare noise propagation in various designs, and to determine optimum sealing patch width and configurations for each body seal and glass run channel program.
Jyco is considering using the university's measurement systems to compare various grades of both materials and the relative damping effects of changing from EPDM to TPV in glass run channels. Sherbrooke's reverberant room and semi-anechoic chamber could be used to perform full glass-in-door noise transmission studies for minimizing noise through glass damping and corners, and identify potential noise paths likely to show up in wind tunnel tests.
"'Relax' isn't in our corporate vocabulary," notes Browell. "While my team is working on optimizing designs and improving performance using current materials, we have another Jyco team working on material reformulations to further enhance performance and environmental advantages. Everyone here is constantly looking for ways to make our footprint even greener."
Since its founding in 2000, Jyco has established itself as a world leader in TPV design, engineering and process technology for automotive, heavy truck and RV weathersealing applications. The company has operations in Belgium, Canada, China, Japan, Mexico and the United States. Jyco's global headquarters is in Dexter, Michigan.
###