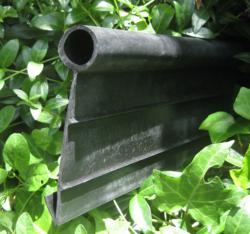 We turn polyethylene's resistance to decomposition into a benefit. ECO-Edging is designed to last decades, without degrading, discoloring or corroding.
Ann Arbor, MI (PRWEB) July 26, 2011
The same company that helps keeps rain out of your car and VOCs out of your air can now keep weeds out of your flowerbeds.
Jyco Sealing Technologies designs and manufactures some of the most sophisticated automotive weathersealing systems in the world. Their products not only keep moisture, dust and noise out of vehicles, they are made using compounds and processes much more environmentally friendly than those of traditional EPDM rubber. This week the Michigan-based company announced a considerably more down-to-earth product line: ECO-Edging decorative landscape borders.
"Some people might wonder why a booming high tech company would pay attention to a seemingly low tech product line like landscape edging," says John McGovern, Jyco business unit manager, industrial products. "Environmental consciousness is a dominant gene in Jyco's corporate DNA. When we see a chance to make an extruded elastomeric system that's better for the planet as well as the customer, be it for motor vehicles, household appliances, or home and garden products, we are encouraged to pursue it."
That being said, ECO-Edging does introduce some ground-breaking features beyond the fact that the flexible, heavy gauge plastic is impervious to rhizomal and stoleniferous growth of weeds and grasses. Watertight connectors join multiple 20' lengths into continuous runs. Simply punch pinholes in the hollow "bulb" along the top and hook up a hose, and you have a drip irrigation system that will conserve water and improve plant vigor. And the border is designed to hold its ground. Four metal stakes per strip also open up a groove along the bottom to anchor the system against frost heaves.
Jyco's recycling and manufacturing processes are especially earth-friendly. The product is the first in its category to be made entirely from reclaimed polyethylene such as water bottles, grocery bags, milk jugs and detergent containers.
"We reclaim scrap from other Jyco production lines, which reduces our own landfill use to next to nil," explains McGovern. "Then we make our impact less than zero by removing landfill-bound garbage from the broader American waste stream."
Green technology is nothing new to Jyco, which was founded in 2000. The company, which has expertise is a wide range of plastics, is best known as a pioneer in TPV processing and sealing technology. Short for thermoplastic vulcanizate, the TPV compound combines the flexibility and performance of rubber with the advantages of polypropylene: easy coloration, recyclable scrap, and processing free of VOCs and particulate emissions. In 2007, Jyco introduced JyGreen, landmark technology to reclaim rubber from used tires and reprocess it into high performance extruded TPV automotive weatherseal systems.
ECO-Edging is the first horticultural product offered by Jyco. Discussions with retailers are already underway, and company officials anticipate the product being widely available to consumers and contractors by Spring 2012.
"With our expertise in processing efficiencies and the economies of volume, we expect to have ECO-Edging on the retail racks at a lower price than other professional grade edging of lesser quality," says McGovern.
"We turn polyethylene's resistance to decomposition into a benefit," adds McGovern. "ECO-Edging is designed to last decades, without degrading, discoloring or corroding. But if the time comes to remove it, it can be recycled again."
###