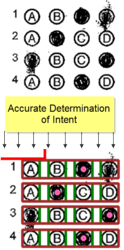 More efficient software for processing bubble sheets means more instructional time for students, and ultimately, accelerated learning gains.
Baton Rouge, LA (PRWEB) December 30, 2011
Automated grading with near-perfect accuracy was delivered with LinkIt!'s "Intelligent Bubble Sheet Grader" software developed by Envoc, a software and mobile app development company.
The intelligent bubble-sheet grader software allowed for the grading of bubble sheet tests that were previously rejected, by integrating Atalasoft's DotImage software and achieving a 99.2% success rate. Tedious, manual grading was the only option available to grade the thousands of machine-rejected bubble test forms. With LinkIt!'s solution, grading speeds increased to a rate of 80 per minute, with staggering accuracy.
Getting accurate and timely test results for a large student population is critical in assessing success and course impact in the classroom. "These days, educators have less time and fewer resources to serve the needs of students," according to Joshua Powe, LinkIt!'s co-founder and president. "When coupled with an increased focus on accountability, the importance of getting accurate data in a timely fashion has never been greater. Creating solutions that help drive student achievement through the effective use of technology has always been a focus at LinkIt!, but our work with Envoc has raised the bar of what is technically possible. More efficient software for processing bubble sheets means more instructional time for students, and ultimately, accelerated learning gains."
Machine-graded tests fail the student when they don't account for unrecognized marks, erased answers, scribbling, and what appear to be multiple attempts at the same question. By leveraging innovative software tools and technologies, discerning the intent of the student on standardized tests by a computer can be achieved with the same rate of accuracy as a human grader. "Teaching a computer to discern the intent of K-12 students who scribble and mark up their bubble sheet exams was a challenge," said Matt Vidacovich, Developer at Envoc, "Their artwork, however, is no match for the image handling handiwork of Atalasoft's DotImage, peppered with an applied Neural Network."
About LinkIt!
Based in New York, LinkIt! was founded in 2003 and is a leading developer of instructional materials serving major K-12 publishers and school districts. The company's central mission is to serve the needs of the modern classroom by providing affordable and innovative data capture and analysis tools, with direct connections to digital instructional resources. LinkIt! technology solutions are currently used in 48 states.
About Envoc
Envoc is a Louisiana-based software consulting, development, and hosting firm currently providing software programming, support, and application hosting services to commercial and governmental clients. Envoc recently attained the Microsoft Silver ISV/Software Solutions Competency has development offices in Baton Rouge, Hammond, and Houston. However, Envoc does not utilize overseas labor. The Hammond office is currently under the wing of the Southeast Louisiana Business Center and is benefiting from the business-friendly environment and resources available for growing businesses. For more information contact Calvin Fabre at (225) 910-8239 ext 101 or visit http://envoc.com.
###