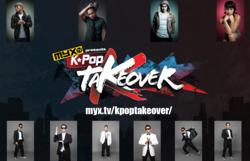 ...we want to contribute to the evolution of the dance scene through K-Pop TaKeover.
Redwood City, CA (PRWEB) May 09, 2011
MYX TV, the only true Asian American television network, proudly brings the first ever K-Pop dance convention to the United States on June 18 and 19. K-Pop TaKeover takes place at the Beverly Garland's Holiday Inn in North Hollywood where K-Pop fans and dancers gather together to learn the latest and greatest in dance from Movement Lifestyle and America's Best Dance Crew's Poreotics.
"We wanted to bring together some of the dance industry's most revolutionary artists and now, they're finally here," shares Miguel Santos, Head of MYX TV. "California is home to some of the hottest young dance crews and we want to contribute to the evolution of the dance scene through K-Pop TaKeover."
The convention brings together famed dancers and choreographers that changed the landscape of hip-hop and the K-Pop movement. Movement Lifestyle choreographers Lyle Beniga, Shaun Evaristo, Keone Madrid and Mari Martin have worked with some of K-Pop's biggest stars like Taeyang, Big Bang, GDragon, 2NE1 and Se7en. They have led the redefinition of the music and lifestyle that K-Pop is known for around the world.
"We're really excited to bring our art to the whole community that loves dance and K-Pop music," says Shaun Evaristo, choreographer represented by Movement Lifestyle. "K-Pop TaKeover is going to be a great experience for fans and dancers but will also be a really special one for us."
Poreotics is no stranger to the US dance scene, as MTV's America's Best Dance Crew Season 5 winners. These shaded showmen inspired by robots, entertain the dance world with their unexpected humor and revolutionary mixed style. As they laboriously honed their craft of popping and robotic movement, they blend different dance styles, giving them a distinctive animated look that's fiercely entertaining.
"We are so excited to be a part of the first-ever K-Pop Tour with MYX TV and Movement Lifestyle," says Matt Nguyen aka "Dumbo" of Poreotics. "K-Pop and popping… Who could ask for more?! This is going to be the first of many to come around the USA and the world!"
Catch the early registration deals from May 6-May 31, 2011. Tickets will be on sale through June 18th and are available at myx.tv/kpoptakeover.
ABOUT MYX TV®:
With its U.S. headquarters in Redwood City, California, MYX TV was developed by ABS-CBN International, a subsidiary of ABS-CBN Corporation, the Philippines' largest entertainment and broadcasting company, through ABS-CBN Corporation's wholly-owned subsidiary, ABS-CBN Global Hungary Kft. MYX TV is the premier music entertainment and lifestyle channel dedicated to the Asian American community, utilizing music, culture and entertainment. MYX TV can be seen on Channel 368 on Comcast's Digital Preferred Tier in the San Francisco Bay Area and Central California and Channel 673 in Chicago, Cox Digital Basic Cable Channel 479 in Orange County and Channel 474 in Northern Virginia, MCV Cable Channel 16 in Guam and RCN Channel 464 in New York City, Chicago, Boston, Philadelphia and Washington, DC. It is available nationwide on DirecTV channel 2067. For more information, visit http://myx.tv.
# # #