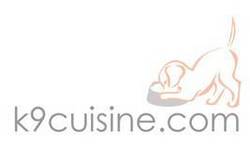 Families are having a hard enough time trying to pay their mortgages and keep food on the table during these tough economic times
Mundelein, Illinois (PRWEB) April 17, 2009
K9Cuisine.com , one of the web's fastest growing online pet food stores, and the WellPet Foundation are teaming up to donate more than 10,000 pounds of all natural dog food to the Pooch Pantry to help families in financial crisis who are struggling to feed their pets. "Families are having a hard enough time trying to pay their mortgages and keep food on the table during these tough economic times," said Anthony Holloway, owner of K9Cuisine.com. "We are thrilled to be able to donate high quality pet food to help feed as many animals as we can and hope that the new supply will keep the food bank for pets stocked for months."
The Pooch Pantry is run out of the B.C. Dog Training Club in Mundelein and is open Saturdays from 9 a.m. to noon. Many of the pet owners who come to the Pooch Pantry are seniors on fixed incomes. Holloway will personally deliver a truckload of premium pet food this Saturday. Wellness is shipping more than 5,300 pounds of dog food this week. The Wellness recipes have the highest quality natural ingredients carefully chosen for a dog or cat's optimum health benefits. Wellness promises: "Your pet's wellbeing is at the heart of all we do, that's why we do whatever it takes to make the healthiest natural products for the pets that depend on us."
At K9 Cuisine, we know how you feel about your pet. We understand that you want to provide your canine companion with the healthiest food for a long, happy life. So we offer only the highest quality dog supplies. When you order from K9 Cuisine, you can be assured you'll receive not only quick, courteous service, but also healthy, high-quality food and treats. We do not sell products that contain additives or preservatives, or ingredients that may otherwise be harmful to your dog. Many of the brands we carry use human-grade ingredients. http://www.k9cuisine.com/
Wellness® - Guaranteed Natural Nutrition for the Life of Your Pet
Wellness, a proud member of the WellPet family of brands, delivers lifelong, natural nutrition for pets - guaranteed. The pet professionals at Wellness carefully select all-natural, human-grade ingredients proven to deliver 100% of a pet's lifetime nutritional needs. To ensure pets enjoy a long and loving life, Wellness guarantees the best natural ingredient sourcing, most meticulous quality assurance and production standards, and nutritional analysis in the industry. Wellness is sold in pet specialty stores and natural food stores across North America and internationally. Visit http://www.wellnesspetfood.com to learn more.
The WellPet Foundation - Responsibility, Passion, Commitment
At WellPet, we are committed to giving back to the world we share with our pets. Through the WellPet Foundation, we support organizations and activities that promote the power of natural nutrition and the benefits of healthy, active lifestyles. Learn more at http://www.wellnesspetfood.com/aboutus_wellpet_foundation.html.
Media Contact:
Susan Risdon
214-226-6741
# # #