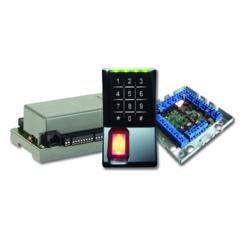 This system offers small businesses or branches an affordable yet powerful access control solution with multiple configuration options.
Winston-Salem, NC (PRWEB) July 09, 2013
As part of the AX.S Series Access Control product line, Kaba Access and Data Systems (ADS) announces the availability of the Access Manager 300 (AM300) and Door Unit 500 (AD500) system. The two-piece combination enables businesses to provide access control capabilities without the installation of software or servers. An embedded application on the AM300 arranges and manages data directly on the device. Users simply type in the IP address into any web browser and log in to the system—the screen displays the application options. From the main menu, users can administer the system, set up users, view events, and run reports.
The system's flexibility allows the AM300 to connect up to eight Kaba I.AM Fingerprint Key Readers with biometric technology or eight Wiegand RFID readers or a combination of both using supplementary AD500 door units. With the integration of Kaba's AXIAL software, AM300 controllers can be managed across multiple sites. This configuration is ideal where there is a central location such as a corporate headquarters or regional office that needs to manage multiple satellite locations.
According to Logan Stewart, product manager Kaba ADS Americas, "This system offers small businesses or branches an affordable yet powerful access control solution with multiple configuration options. When implemented with optional OC8 Extension Modules, users can selectively open containers. For example, if a user enters "01" on the Fingerprint Key, then presents a finger, the user will gain entry to cabinet or drawer one. When IC8 Extension Modules are integrated, the system provides notification on the container's status (open vs. closed). In addition, audit trail capabilities provide data on who opened the container and when, which can provide valuable information for business analysis. This unique configuration is ideal for retail, healthcare, and banking facilities that have display cases, cabinets, safety deposit boxes or server cabinets."
The Embedded Access Control Series rounds out Kaba ADS' access control and data capture product suite. In addition to this series, Kaba ADS offers:
•Mechanical and Electronic Locks
•Multihousing Systems
•Physical Access Systems
•Safe & Container Locks
•Hotel Locks