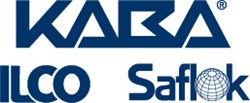 Kaba's new Wi-Fi communication backbone is an ideal, cost effective solution for these and many other properties where this was impossible in the past.
Montreal, QC, Canada (PRWEB) November 08, 2013
Kaba, provider of Saflok™ and ILCO™ electronic locks, will announce its new Wi-Fi communications backbone for online hotel locks at IHM&RS, November 9 – 12 in New York. Kaba's Saflok online lock system increases security and guest convenience. The system uses Zigbee communication from locks but Wi-Fi communication from Kaba's Messenger™ gateways. This enables hotels to realize the benefits of Zigbee online locks with less installation complexity and property impact. Click here for information on Kaba electronic locks.
"Many older hotels have unique floor plans and other constraints that make it difficult to implement networked electronic locks," said Kerry Hirschy, SVP of Sales and Marketing for Kaba Lodging. "Kaba's new Wi-Fi communication backbone is an ideal, cost effective solution for these and many other properties where this was impossible in the past."
Kaba Messenger enables web-based monitoring of guest locks and keys for greater security
Kaba's Quantum Messenger door locks provide greater security and reliability. They continually communicate their status across an online network that monitors the guest door for greater security. If a guest room door is left ajar for a configurable time period, guest services or security can be automatically notified to respond. The Messenger wireless communication system allows web-based monitoring of electronic door locks and keys for guest rooms and back-of-the-house doors, including ballrooms, meeting rooms, service closets, employee entrances, mechanical areas, and storerooms for total property security. To conserve manpower, the system signals engineers when individual batteries are low to allow staff to replace them on an as-needed basis before required.
At IHM&RS come to booth 2902 to learn more about Kaba's Online Locking System.
Kaba, Saflok, ILCO
Kaba is a globally active, publicly traded security corporation. With its "Total Access" strategy, Kaba specializes in integrated solutions for security, organization, and convenience at building and information access points. Kaba is also the world market's number one provider of key blanks, key cutting and coding machines, transponder keys, and high-security locks. It is a leading provider of electronic access systems, locks, master key systems, hotel locking systems, security doors, and automatic doors. http://www.kaba.com and http://www.kabalodging.com
Saflok joined Kaba in 2006. Saflok is a market innovator with 30 years of experience designing, manufacturing, and distributing electronic locks and systems. Its solutions are installed globally in the hospitality, lodging, multi-housing, and commercial markets. Saflok is committed to delivering best-in- class solutions that help properties achieve improved operations and reduced costs. http://www.saflok.com
ILCO is a division of Kaba. The ILCO brand is known worldwide for electronic locks that offer exceptional quality and technology innovation at competitive prices. ILCO is also a leader in key blanks, automotive transponder technology, key cutting/duplication machines, and brass replacement cylinders. http://www.ilcohospitality.com.