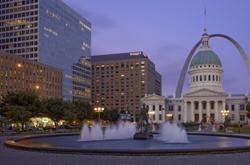 We have more than 900 locks and we chose Saflok's RFID system because it was the best investment in current and ongoing technology.
Montreal, QC, Canada (PRWEB) June 08, 2011
KABA Saflok booth #107 at HITEC
June 20 to 23, 2011
Austin County Convention Center
KABA, the provider of Saflok and ILCO electronic locks, upgraded hotel door locking systems at the 910-room Hyatt Regency St. Louis at The Arch and the Comfort Inn Shady Grove in Gaithersburg, Maryland. The properties, which previously utilized Saflok mag stripe solutions, implemented Saflok System 6000 RFID door locks. Both properties cited the technological advantages of RFID locks, the system's affordable price, and Saflok's customer service as the basis for their decision. Click here for information on KABA locking systems.
KABA selected for advanced technology, commitment to customers
"Implementing Saflok System 6000 RFID hotel lock solutions for two different types of property provides a real-world example of its flexibility," says Kerry Hirschy, senior vice president of sales and marketing for KABA Hospitality. "System 6000 interfaces with existing property management systems for greater security, and RFID locking technology is extremely reliable. Both hotels are long-time Saflok users and evaluated other solutions before selecting the System 6000. Both said they valued Saflok's customer service."
"We shopped the competition before we replaced our mag stripe locks with Saflok's RFID system," says Rick Creviston, chief engineer for Hyatt Regency St. Louis at The Arch. "The other vendors were about equal in price. One reason that Saflok came out on top is the great job they've done supporting our original 20 year-old locks. Saflok never said that the locks were too old to maintain."
Hyatt chooses RFID as best investment, most reliable 'go-forward' technology
"We have more than 900 locks and we chose Saflok's RFID system because it was the best investment in current and ongoing technology," says Creviston. "We think RFID is the future." He also cited the durability of Saflok RFID's system. "RFID key readers are sealed and incur less wear because they do not pick up the dust from key use. Also, RFID keys have such a long service life and we've instituted a 'green' program to recycle keys and boost their return rate as guests check out."
RFID key codes are not subject to erasure by cell phones and magnets, which creates a major value in guest satisfaction. "Guests need a positive first impression. RFID keys always work, and guests like the way the new keys open their doors by just passing the key near the reader," Creviston said.
Saflok RFID makes a better impression
"Saflok is a good technology partner and their RFID offering is a very attractive system that impresses our corporate guests," says Vira Safi, managing partner of Comfort Inn Shady Grove. Safi upgraded to Saflok RFID after using Saflok mag stripe keys for 14 years. "We created custom images of nearby Washington D.C. on our RFID keys which add to our cachet of being near the nation's capital. It makes a difference in the look of my hotel and the impression it leaves with guests." Safi noted that Saflok System 6000's RFID advantages come at a reasonable price. "It's the cost-conscious choice."
Please stop by the KABA Saflok booth #107 at HITEC, June 20 to 23, 2011 at the Austin County Convention Center for a personal demonstration of the latest electronic door locking systems.
KABA, Saflok, ILCO
KABA is a globally active, publicly traded security corporation. With its "Total Access" strategy, KABA specializes in integrated solutions for security, organization, and convenience at building and information access points. KABA is also the world market's number-one provider of key blanks, key cutting and coding machines, transponder keys, and high-security locks. It is a leading provider of electronic access systems, locks, master key systems, hotel locking systems, security doors, and automatic doors. http://www.KABA.com and http://www.KABAhospitality.com.
Saflok joined KABA in 2006. Saflok is a market innovator with 30 years of experience designing, manufacturing, and distributing electronic locks and systems. Its solutions are installed globally in the hospitality, lodging, multi-housing, and commercial markets. Saflok is committed to delivering best in class solutions that help properties achieve improved operations and reduced costs. http://www.saflok.com
ILCO is a division of KABA. The ILCO brand is known worldwide for electronic locks that offer exceptional quality and technology innovation at competitive prices. ILCO is also a leader in key blanks, automotive transponder technology, key cutting/duplication machines, and brass replacement cylinders. http://www.ilcohospitality.com.
# # #