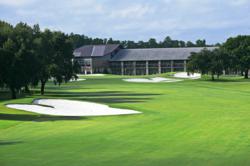 The system's technology is so advanced that we feel it provides a substantial benefit to our guests.
Montreal, QC, Canada (PRWEB) November 04, 2011
KABA, the provider of Saflok™ and ILCO™ electronic locks, announced that Arnold Palmer's Bay Hill Club & Lodge has installed the Saflok RFID door lock system throughout this world famous golf destination. Bay Hill is host to the nationally televised Arnold Palmer Invitational Presented by MasterCard, and is a respected corporate destination. The property is also a venue for spa and tennis vacationers, and for weddings and special events. All lodge guests now benefit from the property's upgrade to the latest in RFID hotel lock technology. Please click here for more detailed information on KABA RFID electronic door locks.
RFID technology a combination of style and convenience
"This conversion to the new electronic locks system has been an epiphany for us," said Ray Easler, Bay Hill general manager. "When we first looked into this, we did not quite understand the magnitude of the technological advances. The system's technology is so advanced that we feel it provides a substantial benefit to our guests," Easler noted. "The door locks also match our décor which is very traditional as one might expect at a well-respected golf venue. This is where Arnold Palmer lives and plays golf. It is very refined, but not overdone and this is another nice enhancement to what is already a very special year at Bay Hill – the celebration of our 50th Anniversary."
RFID wristbands ensure smooth employee operations
"The big advance for us from a servicing standpoint is that our lodge guests and service staff no longer have to swipe a keycard," explained Terry McMullen, director of operations for Arnold Palmer's Bay Hill Club & Lodge. "All our employees use an RFID wristband. When their hands are full, they are not fumbling for a key. They can simply pass their arm with the wristband in front of the locking device and gain access to the room quickly which allows us to provide even better service to our guests."
McMullen also said each key records its most recent uses, which adds even greater security for guests. "RFID keys and door locks are very secure. We are able to track where and when each key is used to maintain the safest access possible. Our guests expect the best environment and we are able to provide it with Saflok."
Arnold Palmer's Bay Hill Club & Lodge installed the Saflok Quantum RFID door locks and the System 6000 software for the front desk. Saflok's System 6000 software is a Windows based program that can be integrated with most PMS software. Saflok's front desk equipment is user-friendly and creates a seamless experience for both the guest and staff.
About Arnold Palmer's Bay Hill Club & Lodge
Located just 20 minutes from downtown Orlando, Arnold Palmer's Bay Hill Club & Lodge is the site of the annual Arnold Palmer's Invitational Presented by MasterCard golf tournament. The 70-room property features 27 holes of golf, the Arnold Palmer Golf Academy, tennis on four Har-tru courts, a full service spa and salon, a fitness center, four dining locations, and 9,000 square feet of meeting and banquet space. For reservations or membership information call (888) 422-9445 or (407) 876-2429.
KABA, Saflok, ILCO
KABA is a globally active, publicly traded security corporation. With its "Total Access" strategy, KABA specializes in integrated solutions for security, organization, and convenience at building and information access points. KABA is also the world market's number-one provider of key blanks, key cutting and coding machines, transponder keys, and high-security locks. It is a leading provider of electronic access systems, locks, master key systems, hotel locking systems, security doors, and automatic doors. http://www.KABA.com and http://www.KABAhospitality.com.
Saflok joined KABA in 2006. Saflok is a market innovator with 30 years of experience designing, manufacturing, and distributing electronic locks and systems. Its solutions are installed globally in the hospitality, lodging, multi-housing, and commercial markets. Saflok is committed to delivering best in class solutions that help properties achieve improved operations and reduced costs. http://www.saflok.com.
ILCO is a division of KABA. The ILCO brand is known worldwide for electronic locks that offer exceptional quality and technology innovation at competitive prices. ILCO is also a leader in key blanks, automotive transponder technology, key cutting/duplication machines and brass replacement cylinders. http://www.ilcohospitality.com.
###