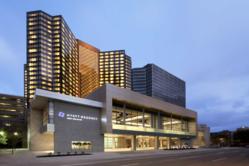 The system also enables greater security. It ensures that only keycard holders may access the guestroom floors during defined hours of operation.
Montreal, QC (PRWEB) January 11, 2012
KABA Lodging announced it has implemented the integration of guest keycards with property elevator banks in the newly revitalized Hyatt Regency New Orleans The 1,193-room convention hotel uses RFID keycards to steer guests smoothly through the property. Only keycard holders may be admitted to guestroom floors for heightened security. KABA's Saflok electronic lock system and keycards interface with Schindler Elevator Corporation's PORT Technology. Please click here for more information on KABA Lodging, the provider of Saflok™ and ILCO™ electronic locks.
KABA delivers greater guest security at convention hotel
"Hyatt Regency New Orleans is the city's premier meeting and convention hotel with more than 200,000 square feet of flexible meeting and event space and 1,193 guest rooms. The new Saflok system interfaced with Schindler's PORT Technology efficiently provides guests with the most efficient elevator service possible," said David Fifer, Director of Engineering, Hyatt Regency New Orleans. "The system also enables greater security. It ensures that only keycard holders may access the guestroom floors during defined hours of operation."
How does it work?
At Hyatt Regency New Orleans, KABA's Saflok Quantum RFID locks are deployed with the System 6000 solution that interfaces keycards with Schindler's PORT elevator technology.
Schindler's PORT destination-dispatch technology reads a guest's Saflok RFID keycard outside one of the eight elevator cars and automatically calls the elevator before a guest enters. "The technology personalizes the guest's stay by generating automatic elevator calls," said Nicole Saloio, Schindler's manager of destination products. "Our system integrates with the Saflok keys and allows guests to present their card to the reader. The elevator bank then calls the most efficient car for the guest and directs them to that car. This adds greater security to property operation with guest keycard identification."
KABA powers guest service through 'property-wide guest communication solution'
"KABA's system integrates with Schindler elevators to turn the keycard into a property-wide communication and security solution," said Kerry Hirschy, senior vice president of KABA Lodging. "Today, KABA's RFID locking systems exchange guest data with Schindler's elevators. In the future, KABA's advanced technology will connect guests with a host of other property devices to enrich their stay."
KABA worked closely with Schindler to implement the industry's first RFID guest keycard interface to Hyatt Regency New Orleans' bank of eight elevators.
KABA, Saflok, ILCO
KABA is a globally active, publicly traded security corporation. With its "Total Access" strategy, KABA specializes in integrated solutions for security, organization, and convenience at building and information access points. KABA is also the world market's number-one provider of key blanks, key cutting and coding machines, transponder keys, and high-security locks. It is a leading provider of electronic access systems, locks, master key systems, hotel locking systems, security doors, and automatic doors. http://www.KABA.com and http://www.KABAhospitality.com.
Saflok joined KABA in 2006. Saflok is a market innovator with 30 years of experience designing, manufacturing, and distributing electronic locks and systems. Its solutions are installed globally in the hospitality, lodging, multi-housing, and commercial markets. Saflok is committed to delivering best in class solutions that help properties achieve improved operations and reduced costs. http://www.saflok.com
ILCO is a division of KABA. The ILCO brand is known worldwide for electronic locks that offer exceptional quality and technology innovation at competitive prices. ILCO is also a leader in key blanks, automotive transponder technology, key cutting/duplication machines, and brass replacement cylinders. http://www.ilcohospitality.com
About Schindler Elevator Corporation
Schindler Elevator Corporation designs, manufactures, installs, services and modernizes a broad range of elevators, escalators and moving walks for almost every building type. The company is the North American operation of the Switzerland-based Schindler Group, a leading global mobility provider with approximately 43,000 employees operating in more than 100 countries. Schindler supports sustainable urban development with safe, reliable and ecologically sound mobility solutions. Schindler was recently named one of Forbes Magazine's 100 Most Innovative Companies for 2011, and the company's equipment moves one billion people every day all over the world. Schindler's PORT Technology is the recipient of the 2012 Architectural Products annual Product Innovation Award. http://www.us.schindler.com
# # #