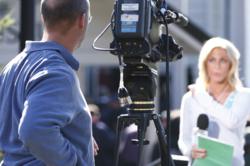 He trusts me, he knows I am honest
Portland, OR (PRWEB) May 06, 2012
Death row inmate Gary Haugen has been in prison for about 30 years. Over the years he has been visited by many reporters, yet he agrees to speak primarily to local reporter Kacey Montoya.
Kacey Montoya has been covering Hagen-related news for nearly nine months, throughout her coverage, Haugen and Kacey Montoya have built a unique relationship.
"He trusts me, he knows I am honest. He refuses to speak to any other reporter," said Kacey Montoya. "Haugen has lost his trust in those surrounding him; when he confides in me, he knows the information remains between us."
Kacey Montoya has been working as a local news reporter since 2007. She works throughout the week as a news reporter, and on the weekends as a news anchor woman.
More About Kacey Montoya
Kacey Montoya was born in Orange County, California. Kacey Montoya attended California State University at Northridge where she graduated with a degree in broadcast journalism and a minor in sociology. Throughout her time in college, she earned several awards, including first place for TV in-depth reporting from the Society of Professional Journalists for her talk show on political free speech. Kacey Montoya has been working in Portland since 2007. In 2010, Kacey Montoya received an Emmy nomination for her role on a morning newscast. In addition to working as an anchorwoman on weekends and as a news reporter throughout the week, Kacey Montoya volunteers on the marketing committee for OFOSA, as well as volunteers for the Greyhound Pet Adoption, and works closely with Northwest Coalition Against Trafficking.