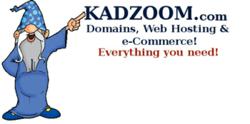 Professional video is a powerful and versatile tool to engage and convert customers, improve search engine rankings and push an organization past its competition," said Len Cavanaugh, CEO, Kadzoom Technologies
South Lake Tahoe, CA (PRWEB) September 28, 2011
Kadzoom Technologies, Inc (kadzoom.com), a leading provider of e-Commerce web hosting, announced its partnership with BBN3 Video. BBN3 Video, a unit of SoMedia Networks, operates an advanced video production platform that streamlines and simplifies the production of professional videos for small businesses. The partnership makes affordable, professional video services accessible to businesses—regardless of size and location.
"Professional video is a powerful and versatile tool to engage and convert customers, improve search engine rankings and push an organization past its competition," said Len Cavanaugh, CEO, Kadzoom Technologies. "The partnership with BBN3 Video will deliver high-quality web videos at a price any business can afford. Videos will work in tandem with Kadzoom's existing products and services to ensure our customers have attention-grabbing online presences."
"Few marketing tools connect with customers like professional videos," said George Fleming, CEO of SoMedia Networks. "BBN3 Video's cloud-based platforms deliver high definition video production, in an easy-to-use format, directly to Kadzoom's customers."
Every Kadzoom customer will be assigned a dedicated producer and videographer to take care of all the details. Experienced professionals ensure every video meets stringent quality standards and delivers an engaging and compelling message. All video content is shot in HD (1080i) and downloadable in MOV, MP4 or Flash formats.
New and existing customers can contact Kadzoom to learn more about video production services and how video can support marketing, search engine ranking and online engagement.
About Kadzoom Technologies, Inc.
Kadzoom Technologies, Inc. is a provider of E-Commerce Web Hosting and Software. Our range of web services includes website design and publishing, online marketing and advertising, search engine optimization and E-Commerce solutions for any stage of small, medium, or large business. Kadzoom also offers a complete do-it-yourself package that allows any business to save on design fees.
About BBN3 Video
BBN3 Video is a unit of SoMedia Networks, a pioneer of global-scale, cloud-based video production services. Through its technology-first and video-as-a-product approach, the company offers professional video creation at the lowest cost comparable in the B2B, television and media sectors. BBN3 Video delivers a simple, yet complete, video production solution to select partners across North America.
Contact:
Kadzoom Technologies, Inc
Web: http://www.kadzoom.com
Email: info(at)kadzoom(dot)com
Ph: 1-855-523-9666
###