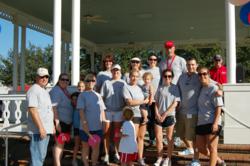 Gulf Shores, Alabama (PRWEB) October 11, 2012
Kaiser Realty, Inc. was recognized this past Saturday, at the American Heart Association's Alabama Gulf Coast Heart Walk, for raising more than $12,000 for the organization, achieving the status of "Top Fundraiser" in the corporate category. The lofty goal was set by the company after raising more than $10,000 in 2011, and was achieved through hard work and determination of the company's staff and the generous donations of friends, family and local area businesses.
"The Heart Walk is one of my favorite area events," stated Kaiser Realty, Inc. President and Founder, Leonard Kaiser. "It allows the community to come together for a great cause, celebrate the lives of those affected by heart disease and stroke and educate area families on ways to achieve a healthy lifestyle."
Kaiser Realty, Inc. employees were also recognized at the event for outstanding fundraising efforts in conjunction with the 2012 event. Real Estate Sales Director, Steve Jones, raised more than $1,180 achieving the second highest fundraising total in the area. Assistant Front Desk Manager, Kimberly Ray, achieved the highest honors at the event, recognized as the area's "Top Fundraiser" with more than $3,500 raised for the American Heart Association.
Kaiser Realty's involvement in the Alabama Gulf Coast Heart Walk is always very special to the Gulf Shores and Orange Beach based vacation rental and real estate sales company. Leonard Kaiser, a heart disease survivor himself, welcomed all participants of the event with heartfelt words during the opening ceremony. Marsha Guyer, Reservation Manager, initiated the event with a beautiful rendition of the National Anthem, engaging the hundreds of participants in attendance.
Kaiser Realty, Inc. also sponsored the event's "Survivor Tent," handing out red hats to those who have persevered through the hardships associated with the affliction of heart disease and stroke.
Other notable organizations in attendance were Coca-Cola and Subway, providing refreshments to walkers after the three-mile course through downtown Foley. The Snook Foundation sponsored the second annual CPR course in conjunction with the event, teaching nearly 100 attendees how to safely and effectively perform lifesaving actions to those during cardiac arrest.
For more information on the American Heart Association, please visit http://www.AmericanHeart.org.
Photo: "Kaiser Realty Exceeds 2012 Heartwalk Goal.JPG" attached.
Caption: Kaiser Realty, Inc. was recognized at the 2012 Gulf Coast Heart Walk for exceeding their goal of $12,000 and becoming the "Top Fundraiser" for the area event.
Contact:
(251) 968-6868
Follow Up Questions: Emily E. Gonzalez, Marketing/Public Relations Director
Written and Distributed By: Adam Pfaff, Public Relations Coordinator
http://www.KaiserRealty.com
About Kaiser Realty, Inc.: Since 1980, Kaiser Realty, Inc. has been renting, selling and managing the finest vacation homes and condominiums available in Gulf Shores and Orange Beach. With the blue green waters and sugar white sand beaches of the Gulf Coast, it is hard to find a more beautiful location for your next home or home-away-from-home. Offering Gulf front condominiums ranging from 1 to 6 bedrooms and vacation homes sleeping up to 30 people, Kaiser Realty will help you create the perfect vacation, retreat, wedding or work function. Visit us at http://www.KaiserRealty.com or call (800) 225-4853 to speak with one of our Reservation Professionals, Sales Representatives or Rental Managers today!
Corporate Mission: "Kaiser Realty, Inc. has a tradition of fulfilling dreams for our customers, our employees and in our community. Our philosophy is to deliver exceptional, professional service with integrity, enthusiasm and a genuine caring attitude. Whether it's for a vacation or a lifetime, our family is committed to yours."