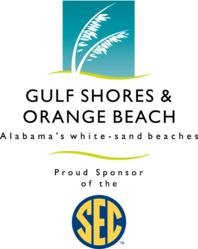 Gulf Shores, Alabama (PRWEB) November 29, 2012
This weekend a team from Kaiser Realty will be on hand in Atlanta joining college football fans from across the nation who are coming together to share the experience of the NCAA Southeastern Conference Championship (SEC). The 2012 East versus West match up features #2 ranked University of Alabama vs. #3 ranked University of Georgia. The weekend features a full-fledged SEC FanFare event at the Georgia World Congress Center with Corporate Sponsors of the SEC including Dr. Pepper, Kia, Sonic, All State and AT&T. Gulf Shores & Orange Beach join the notable group as the "Official Tourist Destination of the SEC".
Representatives from Kaiser Realty and other great local businesses will be on hand at the SEC FanFare offering information about the area's beautiful sugar white sand beaches and engaging with fans with fun games and giveaways. Taking place from 1:00 p.m. to 6:00 p.m. on Friday, November 30 and from 9:00 a.m. to 4:00 p.m. on Saturday, December 1, the Gulf Shores & Orange Beach activation area will be a focal point for families to gather, share memories and learn how to create new ones along the Alabama Gulf Coast.
Harnessing the tradition of "Where SEC Families come to Play," the Gulf Shores & Orange Beach area at the SEC Championship fanfare will feature games for the entire family, a beach themed area design and a chance for attendees to win prizes from something small to a free vacation. Join Kaiser Realty at the SEC FanFare on Friday from 4:30 p.m. to 5:30 p.m. as legendary University of Alabama head coach, Gene Stallings will be signing autographs and offering fun tales from college football's yesteryears.
Made possible by the passionate partnership between the SEC and Gulf Shores & Orange Beach Tourism, Kaiser Realty's Head Coach sponsorship of the initiative has enabled alternative marketing efforts and interactions with thousands of potential guests to be the focus of the fun filled events throughout the year. In August, the college football season kicked off with fun in the sun as SEC fans gathered along the sugar white sand beaches of Gulf Shores to share in their team spirit, interact with current and legendary SEC coaches and players, enjoy local vendors and attend Gulf front concerts at the inaugural SEC BeachFest.
To learn more about the Gulf Shores & Orange Beach and available vacation home and beach condos in the area, visit http://www.KaiserRealty.com.
###
Contact:
(251) 968-6868
Follow Up Questions: Emily E. Gonzalez, Marketing/Public Relations Director
Written and Distributed By: Adam Pfaff, Public Relations Coordinator and Emily Gonzalez, Marketing and Public Relations Director
http://www.KaiserRealty.com
About Kaiser Realty, Inc.: Since 1980, Kaiser Realty, Inc. has been renting, selling and managing the finest vacation homes and condominiums available in Gulf Shores and Orange Beach. With the blue green waters and sugar white sand beaches of the Gulf Coast, it is hard to find a more beautiful location for your next home or home-away-from-home. Offering Gulf front condominiums ranging from 1 to 6 bedrooms and vacation homes sleeping up to 30 people, Kaiser Realty will help you create the perfect vacation, retreat, wedding or work function. Visit us at http://www.KaiserRealty.com or call (800) 225-4853 to speak with one of our Reservation Professionals, Sales Representatives or Rental Managers today!
Corporate Mission: "Kaiser Realty, Inc. has a tradition of fulfilling dreams for our customers, our employees and in our community. Our philosophy is to deliver exceptional, professional service with integrity, enthusiasm and a genuine caring attitude. Whether it's for a vacation or a lifetime, our family is committed to yours."