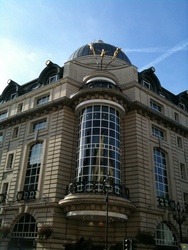 (PRWeb UK) April 1, 2011
The UK's building cleaning specialists, Kaizen Group have almost finished restoring part of the iconic Criterion Building, London, to its former glory - ready for the 2012 London Olympics.
The company's specialist stone-cleaning team are currently working on the entire central London block in Piccadilly, which incorporates the Criterion Theatre, Lillywhites and Jermyn Street.
The limestone, Portland stone building is being holistically cleaned through a combination of Jos Torc and Doff systems - and of course, the Kaizen human touch.
Kaizen have also gone a little further than asked, cleaning the window frames and green marble to make the frontage as sparklingly-clean as the beautifully revealed stone. The team have had to overcome the difficulty of getting water and power supplies to the site, as well as securing planning permission and the logistics that not only came with carrying out a job this size, but also in doing so at the heart of a busy, working Capital City.
Commenting on the work so far, Kulwinder Lall, QS/Works Manager of Criterion Capital (the building's owner), said:
"We've found Kaizen to be nothing but professional. They've been very cooperative in accommodating the needs of a fully functioning building (whilst the work's carried out), and there's been minimal disruption.
We would most certainly use their services again, and we would have no hesitation in recommending Kaizen to others."
The Criterion Building opened its doors in 1874 and is home to the Criterion Theatre, The Criterion Restaurant, Lilywhites, McKinsey & Co, Cafe Concerto and Cool Britannia.
More about Kaizen Group
Kaizen have been bringing buildings back to life in the UK and across Europe for over 20 years.
With their wealth of expertise in building materials (glass, plastic, brick, block, stone, steel, aluminium, iron, concrete, wood, cladding, tile, and paint) Kaizen clean, refurbish and restore building facades, making sure they go on living afterwards.
Kaizen specialise in cleaning, repairing and restoring stone building exteriors in London. Old, new, limestone, sandstone, marble, granite, slate, listed, historic, modern... Kaizen's skilled team carry out holistic restoration to suit the building's needs.
Kaizen also work on thousands of clad buildings including; warehouses, logistic & distribution centres, industrial units, showrooms, shopping centres, offices, furniture retailers, university buildings, science parks and factories. Their latest contract includes an alliance with the World's largest building owner and leading warehouse company, Prologis. This contract will see the British company using their expert teams to consult, inspect and report on Prologis' portfolio, as well as cleaning and refurbishing Prologis building facades across 11 European countries.
Kaizen help some of the largest companies across the UK and Europe maintain, restore and refurbish their buildings, increasing life-spans and saving clients' money through inspecting, reporting, advising, cleaning and protecting.
Put simply, they're very good at what they do.
Read more about Kaizen and the specialist work they do at http://www.kaizengroup.co.uk
Find out more about their stone-cleaning expertise here
Find out more about Criterion Capital at http://www.criterioncapital.co.uk
###