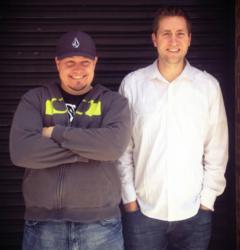 Anyone can turn what they know into dough.
Tustin, CA (PRWEB) January 31, 2013
10,000 is a serious number. Malcolm Gladwell puts forward that one is a credible, and world class expert after ten thousand hours are invested in any particular task. Kajabi, the Tustin, CA based SaaS provider of membership software and online marketing tools has not only invested multiples of 10,000 hours, as well as 10,000 clients.
Kajabi was founded 3 years ago, and continues to be led by Travis Rosser and Kenny Rueter, with a single goal, letting anyone turn what they know into dough online. They founded the company when Kenny had a fun idea for a kids car wash/sprinkler system, and some people outside of his area wanted to know how to build one. Yet after a lot of searching Kenny couldn't find an easy way online to publish plans, how-to videos, answer questions, and get paid for his idea. Enter longtime friend Travis Rosser, and the combination of creativity and coding, and Kajabi was born.
Kajabi is an aboriginal word, meaning "to take flight," and that is exactly what the software does for its users. As Kenny and Travis look back at 10,000 users served, they have a lot to be proud of, but what they are most proud of are the results of their clients.
To date, Kajabi publishers have sold over $40,000,000 (yep $40 million), of information products and membership services online. Everything from improving your tennis swing, to training your puppy, to vegan juicing recipes, it's been built, sold, and managed through their proprietary tools and training.
When asked about what the number one lesson Kenny has learned working with this giant crop of online entrepreneurs, he said, "There is wisdom and expertise everywhere to improve life. If we can just get the technology piece out of the way, we all benefit from the education and enrichment. At Kajabi, that's what we've aimed to do. Results for a startup or enterprise level user online, guaranteed techie-free."
When questioned about what's next for Kajabi, Travis said succinctly, "10,000 more users. We've learned a ton from our clients, and we're constantly improving." And judging from the massive results Kajabi has helped their first core group of clients generate, the second wave of online entrepreneurs are sure to make quite a splash.
###
Kajabi, a SaaS provider of premium digital content publishing solutions based in Tustin CA is co-owned by Travis Rosser and Kenny Rueter. Founded in 2009 and bootstrapped to multi seven figure success, they're passionate about equipping entrepreneurs in all stages to succeed online. If you'd like more information about this topic, or to schedule an interview, please call Jonathan Cronstedt at 714-333-9423 or email Jonathan at jonathan(at)kajabi(dot)com