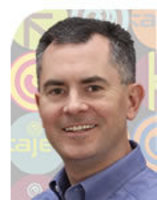 Kajeet's customers are busy moms who prefer to shop online as it helps them save time and money. Online channels are the most effective way to make sure these moms are aware of kajeet
Bethesda, MD (PRWEB) January 28, 2009
kajeet™, the cell phone service made for kids, has named Mark Pilipczuk as chief marketing officer. A father of two and a long-term kajeet customer, Pilipczuk says he is proud to join a company that keeps parents and kids talking. Pilipczuk will use his wealth of experience in online marketing to help kajeet cost-effectively cultivate long-term relationships with customers and expand the kajeet online store.
In addition to driving online sales, Pilipczuk will work to boost and expand sales of the kajeet monthly plan offerings. A pay-as-you-go company, kajeet offers recurring monthly plans for people that want simplicity and great deals without contracts and their associated termination fees, overages and other extraneous expenses. Pilipczuk will also focus on developing new marketing channels to increase sales to the kajeet core customer base: parents with children between the ages of eight and sixteen.
Pilipczuk has gained the experience to accomplish all of these goals over the last eighteen years, working in the Internet/online, non-profit and publishing industries. His specialties include channel management, marketing process improvement, testing and analysis, as well as profit and loss management.
"Kajeet's customers are busy moms who prefer to shop online as it helps them save time and money. Online channels are the most effective way to make sure these moms are aware of kajeet," says Pilipczuk. "Our no-contract pricing, free unlimited Parental Controls, GPS phone locator, and award-winning service are customer benefits that are very attractive to moms and families. Our online business model gives us the flexibility to continually test the marketing mix to give our customers exactly the mix of services that best fit their families' needs."
Before joining kajeet, Pilipczuk founded MAP Consulting, a marketing consultancy specializing in online and offline direct response marketing, with a focus on new customer acquisition. Prior to MAP, Pilipczuk was a senior vice president at AOL LLC, where he was responsible for AOL's online and offline marketing channels and registration systems.
Pilipczuk also served as vice president of marketing for World Wildlife Fund (WWF) in Washington, D.C. He led the group's membership, partner marketing, member services, marketing analysis and travel programs, serving more than 1 million U.S. members. He began his career working for Sweden-based International Masters Publishers (IMP) where he led marketing efforts for the IMP Home & Hobby product lines.
Pilipczuk graduated cum laude from Utica College with a B.S. in Business Administration and received his MBA from the Pace University Lubin Graduate School of Business. He serves as a Vice Chairperson of Utica College's Board of Trustees.
About kajeet:
kajeet, the cell phone service made for kids, is based in Bethesda, MD, but kids are the center of our universe. Kajeet keeps parents talking with their children and teens with online parental controls and kid-friendly features. With kajeet, there are no pesky contracts or surprise bills. Parents can find kajeet phones online at kajeet.com and Amazon.com.
###